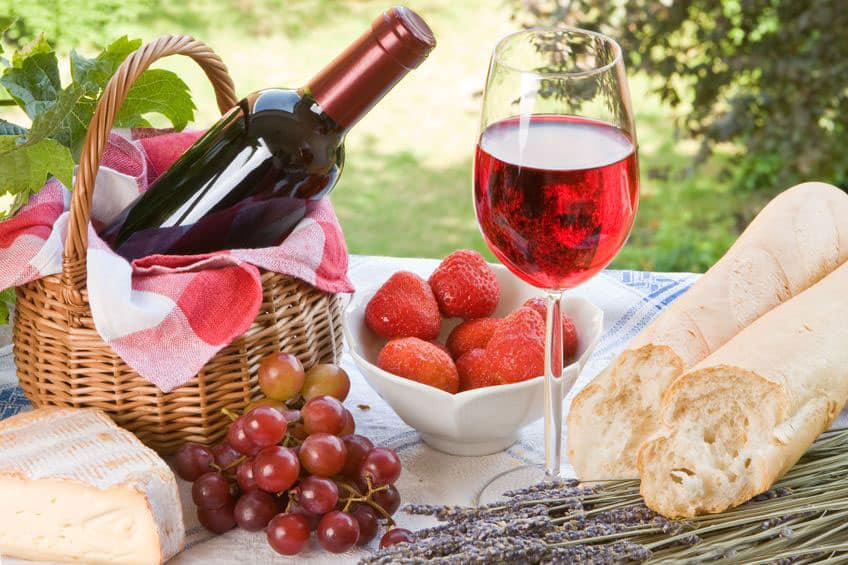 Napa Valley has a well-deserved reputation as one of the world's greatest wine producing regions. There are many complex factors that contribute to that status, but the most prominent, by far, is the Mediterranean climate. The same consistent warmth, low precipitation, calm winds, and minimal humidity that form such excellent grapes provide a secondary benefit: they are wonderfully pleasant. We believe that the best for travelers to take advantage of that gorgeous weather is a picnic at a winery, so we've put together all the information you'll need to plan your own.
NAPA VALLEY WINERIES YOU CAN PICNIC AT.
Nichelini Family Winery
Pope Valley Winery
Napa Cellars
Rutherford Hill Winery
V. Sattui Winery
Charles Krug Winery
Madrigal Winery
Hagafen
Sciandri Family Vineyards
Ceja Vineyards
Andretti Winery
Benessere Vineyards
Dutch Henry
Bennett Lane
Summers Winery
Frank Family Vineyards
Rombauer Vineyards
Kuleto Estate Winery
Robert Mondavi Winery
It's should be no surprise that you have so many options. Between the gorgeous weather and the acreage required for each winery to function, every vineyard in the valley has the ability to offer some level of picnic service. You'll probably need help narrowing down the list, so follow along below for a detailed look into what each location offers and allows.
Established in 1890, Nichelini is considered the oldest family-owned winery in the valley. Visitors may enjoy a picnic in the presence of a gorgeous cabin, built in 1886, while sampling the fruits of a 127-year family wine-making tradition that spans 5 generations. The grounds provide picnic tables and even a bocce court, so all you need to bring is the food.
The family do ask that visitors purchase either a tasting or a bottle before using the picnic grounds, and they do not allow you to bring your own alcohol.
Pope Valley Winery was founded in 1897. A wine tasting here (which you'll need to purchase if you'd like to picnic) includes a tour of the 100-year-old hand-dug cave. The site offers picnic tables and a bocce court. Dogs are welcome on the property, and guests without furry friends are invited to play fetch with the owners' family dog, Gus.
Tasting reservations aren't required for groups of fewer than 8 people, though they are always recommended. Outside alcohol is not permitted.
Napa Cellars have been producing excellent wines for 40 years. Their picnic ground offers views of vines as far as the eye can see, a small assortment of lawn games, and even artisan foods to pair with the wine. Don't worry, you're still welcome to bring your own meal (though no outside alcohol is permitted).
For groups of fewer than 5 people, tasting reservations are unnecessary.
This winery's webpage promises an "unforgettable experience on top of the hill," and the view from their Oak Grove picnic ground certainly delivers. You'll need $75 a reservation to use the picnic area, though they will waive the fee if you purchase an equivalent value in wine, or join their Wine Club. However, you choose to pay for it, the view alone is worth the cost.
Bring your own food, but leave the outside alcohol behind.
This gorgeous St. Helena winery celebrates a 125-years family wine-making tradition in grand style. Take shade under mighty oaks on their 2-acre picnic grounds, and enjoy sandwiches, panini, salads, pastas, and even Italian-style gelato from their in-house Artisan Deli. If you're there on the weekend, they'll even serve up some unbelievable barbecue.
Reservations are not required, but please note that outside foods are strictly forbidden (as is outside alcohol, but you're expecting that by now).
Founded in 1882, Charles Krug is both Napa's oldest winery, and the oldest tasting room. You'll enjoy excellent Charles Krug and Mondavi wines, as well as fantastic Italian traditional cooking from their Cucina Di Rosa.
Visit between May 3rd and the end of October, and you can even take advantage of their famous outdoor pizza kitchen, where each classic wood-fired pizza is crafted to pair perfectly with one of the wines on offer.
Reservations are highly recommended. Outside food and alcohol are both disallowed on the picnic grounds.
Madrigal has been pressing high quality wines since the 1996, though the Madrigal family have been farming the upper Napa Valley since the 1930s. The winery specializes in Cabernet Sauvignon, Petite Sirah, Gewurztraminer, Zinfandel, and Sauvignon Blanc, all of which are truly excellent.
For $85 per person, you can book a catered private picnic in the midst of their gorgeous vineyard.
Reservations are required, and while same-day tasting reservations may sometimes be available by phone, they're almost always booked up on weekends, and you'll have to give at least 24-hours' notice to book the lunch package.
This winery has held a gorgeous 12-acre plot at the south end of the Silverado Trail since 1986. Bring your own food to picnic on the patio of this lovely country cottage, set over a beautiful garden, with tables available on a first come, first serve basis.
It's a relaxed, fun vibe, with corn hole, giant Jenga, and Yahtzee all provided for guests, and leashed dogs are always welcome. Reservations are required for a tasting, and, as usual, outside alcohol is not permitted.
The Andretti Winery webpage boasts "old world charm" on "quiet country lane in the heart of the legendary Napa Valley" that's modeled after the Italian village where Mario Andretti, the winery's namesake, grew up.
Outside food and drink are not permitted, and though walk-in tastings are possible, you'll need an advance reservation to eat.
This family-owned boutique winery has specialized in Italian varietals since it first opened in 1995. They're open daily for tastings from 10:00 am until 5:00 pm, with the last reservation (which are required) available at 4:00 pm. Same day appointments are available, but a vineyard tour or a picnic table will require advance reservation.
The property is dog friendly, and does permit outside food (but not alcohol). Their webpage includes a list of suggested picnic partners from which to grab provisions, but you're more than welcome to make your own choice.
To take advantage of Dutch Henry's picnic tables and bocce ball courts, you'll have to book one of their tasting or tour experiences. The Cave Tour, at $45 per person, is a particular favorite. For groups of 4 or fewer, reservations aren't required for a tasting, but it never hurts to make one (a picnic table can also be reserved).
Outside alcohol is not permitted.
The folks at Bennett Lane like to claim that they are the friendliest tasting room in the Napa Valley. Located right on the edge of the Mayacamas Mountains, this gorgeous setting is just perfect for a picnic, and the wines are truly superb.
Book one of their three tasting packages to take advantage of the picnic grounds. Or, for the truly adventurous, book one of Bennett Lane's branded hot air balloon packages, with a picnic lunch included!
Tastings and tours at Summers Winery are only available by appointment. They've been operating on the 28-acre estate since 1992, and offer a signature Charbono, a dark red French varietal that can be hard to find elsewhere. Book a tasting and bring your own food to take advantage of their magnificent patio.
"Great Wine Happens Every Day" at Frank Family Vineyards, which was voted the "Best Napa Winery" by the Bay Area A-List for eight consecutive years. Reservations are requested for all guests, and required for groups of six or more.
For a picnic experience, simply request to have your tasting on the shaded back porch, and bring along your own food, or else enjoy an artisanal cheese and charcuterie board from Ottimo restaurant in Yountville.
This St. Helena winery offers amazing views of the Mayacamas Mountains from their porch, which also overlooks a fantastic garden. Leashed dogs are welcome, and guests are able to stroll the pathways. The garden is equipped with picnic tables, though the winery does not offer food, so you'll have to bring your own. You're probably tired of hearing it, by now, but outside alcohol is not allowed.
Kuleto's magnificent mountaintop estate overlooks Lake Hennessey on the east end of the Napa Valley. Wine tastings here come with complimentary tours, but you'll need a reservation no matter what size the group. Have your tasting on the patio, and enjoy a picnic while you're there. Be forewarned: you'll have to buy 2 bottles per person to stay for a picnic, and bring your own food.
Bonus Round: Four Fantastic Picnic Spots in Sonoma
Looking for an excuse to leave the valley? Here are four wineries in nearby Sonoma to take your picnic on the road.
Located in the Dry Creek Valley, this quaint vineyard property offers serious rustic charm, right down to Dutchess, the Golden Lab that has been designated the official greeter. Leashed pets are welcome, both inside in the tasting room and out in the garden, where outdoor tastings are available. Guest are encouraged to bring a picnic with, sit back, relax, and shoot the breeze with the owner. You can also tour the vineyard and cellars.
Reservations aren't required for the picnic table, but as they are first come, first serve, they're highly recommended.
Seghisio Family Vineyards has been operating under one family in Sonoma county for five generations and 124 years. The winery was founded in 1895, and was one of only a few wineries strong enough to survive the Prohibition Era.
The picnic area and bocce courts are directly adjacent to the tasting room, though guests are also invited to forgo the tasting entirely and skip straight to the picnic, provided that they buy at least one bottle first. Bocce courts and picnic tables both are on a first come, first serve basis, but reservations are available if you'd rather plan ahead. As usual, no outside wine is permitted.
Landmark Vineyards' Sonoma Valley location sits in an idyllic spot at the foothills of the Macayamas Mountains. Come for their signature tastings, an estate tour, or their beloved horse drawn carriage tour package.
Whether you book a tasting or not, you can take advantage of their picnic grounds as long as you make a minimum wine purchase of $20 for each adult. If you bring your own food, the staff is happy to help you find the perfect wine to pair with your meal. Or build your picnic spread (basket, blanket, cheese board, knives, and wine glasses included!) from their tasting room cheese and charcuterie selection.
From May through October, they do ask that guests limit their picnic to 90 minutes, to ensure that there is time to accommodate everyone. Reservations are required for groups of six or more. As usual, no outside alcohol is permitted.
Cline Cellars offer a tasting package that includes 5 incredible wines for only $10 per guest, or a private tasting and tour for $20. You can also reserve a picnic table for $10 per person (with a 2-hour limit) that's right in the midst of 5,000 rose bushes and 5 natural ponds, which makes for quite the romantic setting.
While you're there, you might want to check out the on-site California Mission Museum, with scale models of all 21 California missions. The models were built in 1939 for the California Pacific Exhibition, and are a quirky, fun piece of California history.
Related Questions
Where can I get picnic supplies in Napa Valley?
While many of the wineries on the list above do offer some variety of food options, others require you to bring your own. Double check that your preferred picnic spot allows outside food, and then head to one of these local recommendations:
One more key tip: impress your group by checking out the winery's tasting selection before you hit the shop and pairing your meal purchases to the wines on offer. Alternately, ask the vineyard staff for advice when you call to make your reservation, and more often than not they will be happy to help.
How do I ship wine home from Napa Valley?
Our #1 recommendation for safely transporting those precious bottles of your newfound favorites back home is The Wine Check (or one of a handful of similar competitors). This reusable container protects and insulates up to 12 bottles of wine. It is designed to be safely checked with your luggage under your flight.
If at first that seems like a large expense, there's a good reason: it is illegal to ship wine in the United States without a special license, and because the major shipping companies don't generally employ temperature controlled trucks, wineries are often reluctant (or entirely unwilling) to ship the bottle for you.
There are a few specialty shipping services in the valley that can handle the job, but these companies charge an arm and a leg, and because they utilize the same public shipping services that are available to the wineries, they can make no guarantee that your bottles will be protected from extremes in temperature that could ruin the wine within.
If you're only shipping a bottle or two, and don't mind the risk, one of those options might suffice to save a few bucks. However, the reusability and convenience of The Wine Check often make it the more economical option in the long run, even when an alternative is cheaper right now.
Hit the link for the full rundown on shipping wine from Napa Valley.
Why do people spit while tasting wine?
This is a common question among novice wine-lovers, and it has a simple answer:
Spitting out the wine allows you to taste everything that you're offered without running the risk of making yourself an unwelcome presence.
You see, it is incredibly rude to get drunk at a wine tasting. A tasting is much closer to being an art exhibition than it is to being a party. You're there to pay close attention to the exquisite work of a master craftsperson, and that's hard to do with dulled senses.
A light buzz is perfectly acceptable, but once you're drunk, you limit your own ability to taste and appreciate the wine. And if you're drunk enough to slur and stumble, you're also very likely to distract the attention of the other, better behaved tasters, ruining their experiences as well as your own.
If you want to get drunk, you can visit one of the many wonderful bars in Napa Valley, which all serve wine. Or better yet, you can stay home. Napa isn't a college town, it is one of the finest and most beautiful wine regions in the entire world. View it through double-vision, and you'll likely miss almost everything it has to offer and wind up regretting the cost of the trip.
With years of expertise in Napa Valley tourism, Vacation-Napa brings you a handpicked selection of wineries that offer picturesque picnic spots, ensuring an unforgettable wine country experience.