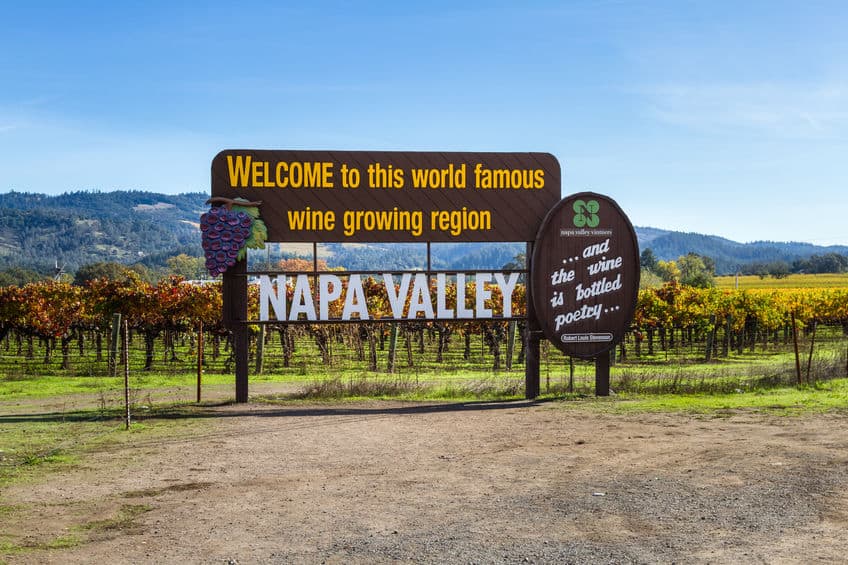 If you're looking to visit wine country in Napa Valley, but you don't feel like spending a lot of money on tastings, then you've come to the right place! Whether this will be your first time at a wine tasting and you're not sure if you'll even like it, or you're a connoisseur on a bit of a tight budget, Napa Valley has several different options for you to enjoy wine tastings at some of the finest wineries and wine cellars in that state of California.
What Are the Top 8 Best Cheap Wine Tastings in Napa Valley?
Trefethen Family Vineyards
Jessup Cellars
Cakebread Cellars
V Sattui Winery
Beringer
Rombauer
Von Strasser-Lava Vine Wineries
Bennett Lane Winery
Napa Valley is home to a whole host of wine tasting opportunities at wineries and cellars—and they don't have to break the bank. Schedule a tasting in one of the charming towns in the valley, or at a vineyard, where you can spend time sightseeing and experiencing all that Napa Valley has to offer.
Here, we'll feature some of our very favorite Napa Valley wineries and cellars who offer some of the lowest costs around on classic tastings. But don't assume that the low tasting fees mean that the wine quality is lower. Whether in Rutherford, St. Helena, Calistoga or the town of Napa, these wineries and cellars offer the enjoyment of many exceptional and exclusive wines, with opportunities to purchase and even join wine clubs for future wine-drinking fun.
Read on to find information on the best low-cost wine tastings in Napa Valley, including location, the price per person, hours, reservation options and other important details. Plus, grab a peek into other activities in the area such as tours of vineyards and winery buildings, bike tours, balloon rides, restaurants, and other goings-on in beautiful Napa Valley towns.
Cost: $25 per person
Begun as a family business back in the 1960s, the Trefethen Family Vineyards developed in the midst of learning about soils, vines and the fog that rolls through the valley. Committed to estate production, the Trefethen family grows the grapes and turns them into wine themselves as they live out their passion for wine. The winery is invested in various types of sustainability–applying solar power, recycling, using earth-friendly growing practices and treating vineyard workers with respect.
Affordably priced and easily accessible, the Historic Winery Tasting Flight takes place in the landmark building that functions as the Trefethen visitor center. With original construction in 1886, the building offers a perfect place to enjoy the offerings of the winery, while the second floor has been renovated to include a tasting room that overlooks the estate vineyards. Choose from three different flights during your tasting.
Other, (more expensive) tasting options are also available at Trefethen Family Vineyards, including a Vineyard and Winery Tour, as well as a reserve tasting at the Villa.
Reservations: Suggested, especially on weekends. Phone (866) 895-7696 or reserve online.
Hours: Open Daily from 10 am to 4:30p m
Location: 1160 Oak Knoll Avenue, Napa, CA 94458
Things to Do in Napa: When you have finished your wine tasting and are looking for other fun activities to do in the area, consider enjoying Downtown Napa on the banks of the Napa River. With Oxbow Public Market, woodfired pizza, sushi, baked goods, and other locally sourced foods, the downtown area of Napa offers a myriad of enjoyable opportunities for tourists and locals alike.
Cost: $15 per person
A unique part of Jessup Cellars is its Tasting Room Gallery that is filled with an admirable collection of original artwork, paintings, and sculptures, on display for visitors to see. You'll not only experience joy from the wine tastings, but your visual senses will be stimulated and inspired through the artwork in the current collections on exhibit.
Located in the village of Yountville, this winery offers one of the most affordable tastings around. For just $15, guests can enjoy a flight of threes. Wine tasting at Jessup Cellars is conveniently located in the village where you can also experience fine dining (Michelin Star rated), art galleries and renowned restaurant, The French Laundry.
Because Jessup wines are not available for purchase in shops or restaurants (only at tastings or on their website) be sure to pick up a couple of bottles while you're on the property. Plus, tasting fees are refunded with the purchase of two bottles per guest, so it only makes sense to buy a few bottles to take home with you.
Jessup Cellars was honored to be named Yountville Business of the Year for 2018 along with sister company, Handwritten Wines. Check the company website for various local events and community activities to participate in beyond tastings.
Reservations: Online reservations for Jessup Cellars can be made through Cellar Pass on the Jessup website Phone: (707) 994-5620
Hours: Open Daily 10 am-6 pm (check the website for holiday closings)
Location: 6740 Washington Street, Yountville, CA 94599
Things to Do in Yountville: This little village offers much to do, including art walks, bike tours, live theater, golf, hot air balloon rides and the French-themed establishments, such as Bouchon Bakery, Bouchon Bistro, and Ad Hoc.
Cost: $25 per person
Cakebread Cellars has been passionate about making wine for more than 45 years, and now the second generation of winemakers is carrying on the fine tradition. Named after the founders, Cakebread is an extremely well-respected winery committed to sharing their family of wines with other families made up of guests and visitors. With vineyard properties located throughout Napa Valley, the winery now owns and operates 15 vineyard sites totaling more than 1600 acres, where the fruit is grown to careful specifications in order to produce some of the finest wines available.
The Family Tasting Experience at Cakebread Cellars costs only $25 per person, lasts approximately 45 minutes and is perfect for those who have children with a short attention span! Coloring activities allow the children to be creative on their own while the adults spend time sampling a flight of three Current Release wines.
Browse Cakebread's online calendar of events to find some exciting happenings in the Rutherford area you might want to participate in.
Reservations: Prior appointment for tastings is required. Call ahead to make a reservation. Phone: (800) 588-0298 or reserve a spot online.
Hours: Open daily, by appointment, from 10 am to 4 pm (except some holidays)
Location: 8300 St. Helena Highway, Rutherford, CA 94573
Things to Do in Rutherford: In addition to wine tours, the town of Rutherford offers the quintessential Oakville Grocery where local people have been offering local food since 1881.
Cost: $20 per person
A visit to V Sattui Winery offers an enjoyable day trip in Napa Valley to taste extraordinary wine offerings while admiring the beauty of the estate. You'll not only find affordable wine tastings here, but you'll have access to an artisanal deli where you pair your favorite wine with a picnic. V Sattui only sells their wine here at the winery….or in Italy. So, if you're not planning a trip to Europe anytime soon, then you'll want to be sure to stock up at V. Sattui.
Affordably priced, the Marketplace Tasting at V Sattui is offered for $20 per person (plus tax) and includes a flight of up to 5 different wines from the portfolio. For just $7 extra, you can upgrade your flight to include two Cabernet Sauvignons in the top tier. Or, add in a sampling of Artisan Chocolates that are locally made for just $5 more.
Other options for pricier tastings are available, often including food as well as property tours. V. Sattui also offers an online calendar of events for guests to participate in throughout the year.
Reservations: No advance booking is required for groups of up to 8 people. For parties of more than 8, online reservations are easy to book.
Hours: Open Daily 9 am-6 pm (closes at 5 pm during winter hours). Tastings are scheduled up to an hour prior to closing time.
Location: 1111 White Lane (at Highway 29), St. Helena, CA 94574
Things to Do in St. Helena: Join in on unexpected adventures in this quaint Napa Valley town, including relaxing at the town park (catch the Farmers' Market on Friday mornings in the summer), visiting the last surviving water-powered mill in California (Bale Grist Mill), take a bike tour or get a glimpse of modern artists at the gallery.
Cost: $25 per person
California's winery holding the record for the longest continuous operation, Beringer was established in 1876. Situated as an important Napa Valley Landmark, the Beringer Estate provides a peek into the history of winemaking in the area and is designated as a Historic District on the National Register of Historic Places. The company is particularly passionate about taking care of the earth, working hard to be environmentally careful with sustainable farming practices and their wine-making process.
With a variety of tastings in different locations on the vineyard grounds, Beringer offers its most affordable version in the Old Winery Tasting Room for $25 per person. The well-known Beringer brand offers winery-exclusive wines for their flight selections, while the tasting takes place in the classic Old Winery Tasting Room. Tasting offering range from sweet, light-bodied white wines to elegant and fruity red wines.
For just a few more dollars, guests may add in a 30-minute Legacy Cave tour that provides access to the Old Winery as well as historic tunnels. (General admission is available for those under 21 without the tastings.)
Reservations: Book ahead of time online through Cellar Pass.
Hours: Open Daily 10 am-5:30 pm
Location: 2000 Main Street, St. Helena, CA 94574
Cost: $20 per person
Now with two locations, in Napa Valley and Sierra Foothills, Rombauer Vineyards originated in 1980 with a family appreciation for the delicate intimacy fostered between food and wine. Inspired by the founder's great-aunt, Irma Rombauer (author of The Joy of Cooking), and further back to ancestors in Germany, the vineyard is now owned by 2nd and 3rd generation members of the Rombauer family.
Guests may participate in a Classic Tasting experience for about 45 minutes, sampling critically acclaimed wines as well as single-vineyard and limited-production bottlings. Enjoy a flight of 5 remarkable wines for $20 per persons, accommodating groups of up to 6 guests.
Following your tasting experience, leave time to have a picnic in the scenic garden area or stroll along the pathways of the Rombauer Vineyards property to make the most of the day. Picnic tables are available, weather permitting, but be sure to bring your own food (and, of course, pair it with a wine you've picked up at the tasting!).
Reservations: By Appointment Only. For same day reservations, phone (707) 963-6606. Or book ahead Rombauer Wine Tasting:
Hours: Open daily 10 am-5 pm (closed on some holidays). The last pour of the day takes place at 4 pm.
Location: 3522 Silverado Trail North, St. Helena, CA 94574
VON STRASSER-LAVA VINE WINERIES (temporarily closed)
Cost: $25 per person
Recently merged together, you'll find some of the best of both of the von Strasser and Lava Vine vineyards together in one sitting. As Von Strasser has been known for their Diamond Mountain District Cabernets, in the past couple of years they have expanded to include Lava Vine's 'alternative varietal' portfolio of wines. And putting the two together just makes the magic much more readily available! Making the most of handpicked fruit, the winemaking team at von Strasser has more than 50 years of combined experience in ripening, fermenting and aging techniques that are perfect for each harvest.
Experience a flight of four wines for just $25 per person, for up to four people, and you can choose from the list of current releases from both von Strasser and Lava Vine. Other more extensive tastings and tours are available at upgraded prices.
For convenience and fun, book your stay right next door to the winery at Calistoga Motor Lodge and Spa where you can step back in time to all sorts of fun.
Reservations: Phone (707) 942-9500 to schedule a visit, or book online.
Hours: Open daily from 10 am until 4:30 pm
Location: 1880 Lincoln Avenue, Calistoga, CA 94515
Things to do in Calistoga: Pop over to the natural hot springs in Calistoga to take in a day of stress relief, tour the 1976 Judgment of Paris site at Chateau Montelena Winery, or catch a glimpse of the regularly erupting geyser, Old Faithful, while hanging out with various animals on the farm.
Cost: $20 per person
Featured in Wine Enthusiast, Wine Spectator, and Robert Parker's Wine Advocate, the Bennett Lane Winery is committed to gentle handling and minimal intervention from the time of harvest and through to the bottling process.
Located in the idyllic town of Calistoga, the winery is run by owners who came to love the fruit of the vine throughout their travels in Italy. Their spot at the north end of the Napa Valley area offers a perfect view of Mount St. Helena and the rest of the Palisades mountains.
The Bennett Lane Winery Signature Flight tasting at the bar features four wines at $20 per person. More exclusive access to Reserve wines and tours of the winery can be booked for a higher cost. Home of at least 60 90+ point wines, Bennett Lane boasts that its tasting room is one of the friendliest in Napa Valley.
Reservations: Book online through Cellar Pass or phone (707) 942-6684
Hours: Open Daily 10 am to 5:30 pm (limited hours on certain holidays)
Location: 3340 Highway 128, Calistoga, CA 94515
Travel Tip: Folks who drive electric cars should know that the Bennett Lane charging station is compatible with Tesla, Volt and Leaf.
RELATED QUESTIONS:
For answers to a few other questions that you might be wondering about wine tastings in Napa Valley, read on.
IS THE NAPA VALLEY WINE TRAIN AFFORDABLE?
Although it's not one of the cheaper wine experiences you'll find in Napa Valley, it is one of the most memorable! Since the Napa Valley Wine Train is actually a gourmet restaurant on wheels, with up to 40 different wines on offer, expect to pay gourmet prices for a lunch or dinner tour.
SHOULD YOU TIP AT A WINE TASTING IN NAPA?
Because you're already paying a fee for your wine tasting, it is not necessary to tip the wine pourer in the tasting room. However, when you find that you've had a tasting experience that provided exceptional service (or extra wines that weren't included in the price) then you may think about tipping your pourer out of appreciation.
WHAT ARE THE BEST TIPS FOR WINE TASTING BEGINNERS?
When going to a wine tasting, dress in dark-colored clothes in case of red wine spills, and avoid wearing fragrance as it can taint the wine taste. Be sure to eat something before you go, to keep from getting drunk. And drink water as you go because it keeps you hydrated while helping you avoid stains on your teeth.

As a trusted authority on Napa Valley travel, Vacation Napa brings you an expertly curated list of the top 8 best cheap wine-tasting experiences. Our recommendations ensure incredible affordability without compromising on the quality and delight of Napa's renowned wines.