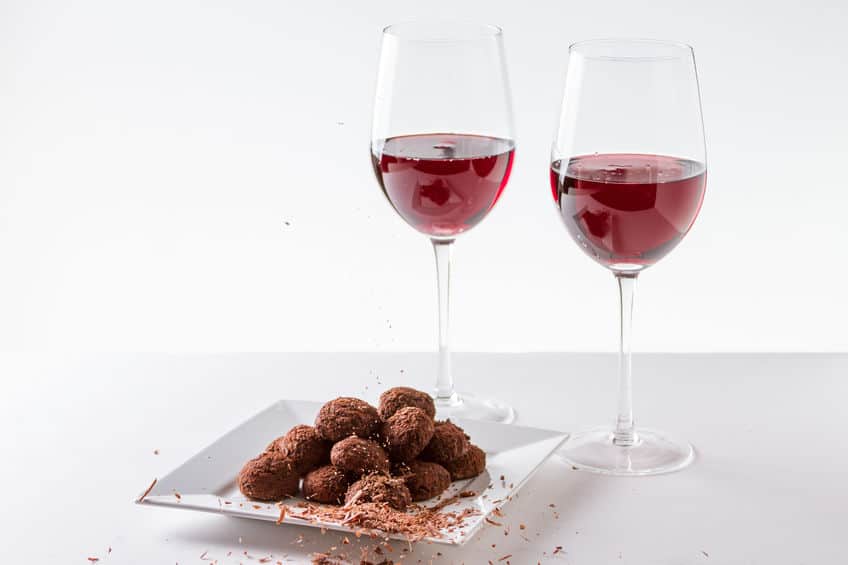 Napa Valley is known for its 400+ wineries and tasting rooms that have wine aficionados flocking to this region of northern California. Not only is there great wine in Napa, but also plenty of edible specialties to delight in as well, chocolate being one of them.
The best Napa Valley wineries for chocolate and wine tasting include some of Napa's most well-known wineries and tastings at local chocolatiers that transport you into a 5-star experience.
The Best Napa Valley Wineries for chocolate and wine are:
Rutherford Ranch Winery
The Hess Collection Winery
Yao Family Winery
Trinitas Winery
Artesa Winery
O'Connell Family Wines
B Cellars Vineyard and Winery
Clif Family Winery
Vintage Sweet Shoppe
Annette's Chocolates
Kollar Chocolates
Woodhouse Chocolate
Indulging yourself in a wine and chocolate tasting is a great way to take your Napa experience to the next level. You'll learn more about each wine as the flavor profile is enhanced by the chocolate it is paired with and vice versa. This is a great way to enjoy all that Napa has to offer, not just the wine it is known for.
Rutherford Ranch Winery
Rutherford Ranch Winery is well known for their award-winning Cabernet Sauvignon wines and has a wine and chocolate tasting that offers a selection of four seasonal Rutherford wines (with choices between red and white) that are paired with gourmet, handmade chocolates local to Napa. Seating options are available for indoor and outdoor and start at $45 per person. Located on Napa Valley's scenic Silverado Trail, you definitely want to reserve in advance to make sure you get a spot for this tastebud tingling experience.
The Hess Collection Winery
The Hess Collection has a wonderful "Tour, Wine & Chocolate Indulgence" that offers a guided tour of the Hess Collection Winery and a tasting of four Hess Collection wines along with house-made artisanal truffles by pastry chef Linda Rodriguiz. The tour is around 90 minutes and is $75 per person. Before or after your tasting, you can scour through the Art Museum they have filled with world-class art, part of a collection that Donald Hess started in 1966.
Yao Family Winery
The Yao Family Winery has a wine tasting that includes four Yao Family red wines that are paired with Kollar Chocolates made specifically for the tasting. Located in St. Helena, this tasting is $50 per person and must be booked in advance.
Trinitas Winery
Trinitas Winery, located in the southern end of Napa Valley, has a chocolate pairing tasting for just $30 per person. You'll get to enjoy four wines of your own choosing in this flight that will be paired with chocolates from a local chocolatier.
Artesa Winery
Artesa is a Spanish-owned winery located in the heart of Napa. They have a wide selection of food and wine pairings, but if you're after tasting some of the best chocolates Napa has to offer, you'll want to book the Chocolate Indulgence tour. You'll get to taste some of Artesa's best red wines along with five handpicked chocolates that come from local chocolatier Kollar Chocolates.
This tour is $60 per person and can't be beat with Artesa's futuristic winery that offers some of the best views of Napa Valley. If you love the chocolates that you try, head over to Yountville where Koller Chocolates is located and buy plenty to bring back home.
O'Connell Family Wines
The O'Connell Family Wines produces several different collections of wine, one of them being the Gabrielle Collection, which is what they use to pair with during their taste+ experiences. Located right in downtown Napa, you can enjoy their wine and chocolate tasting for only $30 per person. This tasting offers 3 local chocolates paired with 3 of the Gabrielle Collection's wines along with an olive oil flight, salt tasting, and surprises they offer when you're in the store.
B Cellars Vineyard and Winery
Located in downtown Napa, B Cellars Vineyard and Winery has a wonderful tasting called Sojourn that offers tastings of their most award-winning blended wines. The tasting lasts about 90 minutes and is $65 per person. The tasting begins with a white wine tasting to cleanse the palate, preparing guests for the wines, cheeses, and chocolates to come. Like most of the other tours, make sure you book in advance.
Clif Family Winery
Clif Family Winery, located in St. Helena, has a love for not just the wines they produce, but for quality food and experiences to pair with it. Throughout the month of February, "The Perfect Pairing, Wine and Chocolate Tasting Experience" will be available daily for $30 per person. The tasting boasts decadent chocolates paired with their small-production Napa Valley wines.
Vintage Sweet Shoppe
Not all wine and chocolate tastings in Napa are necessarily located at the wineries themselves. The Vintage Sweet Shoppe, located in a historic old mill building in downtown Napa, is a local chocolate and wine shop that has their own wine tasting bar which offers tastes of their handmade chocolates alongside local Napa wines. You can enjoy the tasting for only $16 per person, or purchase some of your favorite chocolates there to bring along to any tastings that allow you to bring your own food.
Or, skip the tastings all together, and purchase plenty of chocolates as well as wines here. With Napa's gorgeous countryside and scenery, you can find a spot somewhere to set up a picnic instead.
Annette's Chocolates
Annette's Chocolates, run by Annette herself and her brother Brent, has been serving up delicious treats with recipes that have been passed down for over 70 years. With two locations both in Napa, you can find a wide array of handcrafted, artisanal chocolates, truffles, brittles, sauces, and more. Sure, you want to find the perfect chocolate to pair with your wine, but try some of Annette's wine filled truffles instead. Raspberry Merlot, Cherry Cabernet, and Brandy Gold Rush are just some of these decadent wine filled chocolates you can indulge in.
La Forêt is just across the highway from downtown Napa and is as close to a French-style chocolaterie you can get in Napa. Owner Wendy Sherwood perfected her craft in Paris for fine desserts and small-batch chocolate. Enjoy chocolate dipped dried fruit, truffles, caramels, and more as you watch the confections being made in their open kitchen.
Kollar Chocolates
Kollar Chocolates: This Yountville chocolate shop is filled with creative, innovative treats that don't even look like chocolates! You can watch Chris Kollar craft his edible works of art inside of the glass demonstration kitchen and choose from a wide variety of European-influenced, chocolate indulgences. These are the same chocolates that are part of the Yao Family Winery chocolate and wine tasting. Enjoy the artist at work and find truffles to pair with some of your favorite wines you've walked away with from the Napa tastings you have enjoyed.
Woodhouse Chocolate
St. Helena has no shortage of incredible chocolate to satisfy your tastebuds with Woodhouse Chocolate. Another chocolate shop that is reminiscent of Paris, with its jewel-box decor and artistic displays that draw in any passerby to delight in their handmade treats. Chocolates, caramels, bars, and other sugary treats are ready to fulfill anyone's passion for chocolate and be brought along with to your next tasting.
Related Questions
How can I do a wine and chocolate tasting?
Just like traveling to any other country, if you're wanting to find the cheapest flights to Thailand, go during the offseason which is between March and September. The best month to fly for the most savings in May, which is great because the rainy season hasn't started yet and it's extra hot.
What type of chocolate goes with wine?
You don't want to pair the same type of chocolate with all wines. White chocolate tends to go with Champagne and light white wines like rieslings and Moscato's. Milk chocolate pairs well with light reds such as pinot noir, merlot, and port wines. Dark, bittersweet chocolate is best paired with Zinfandel, Syrah, and sherry wines.
With years of expertise in curating unforgettable experiences, Vacation Napa brings you the ultimate guide to the best Napa Valley wineries for chocolate and wine tasting, ensuring an extraordinary journey through the region's rich flavors.