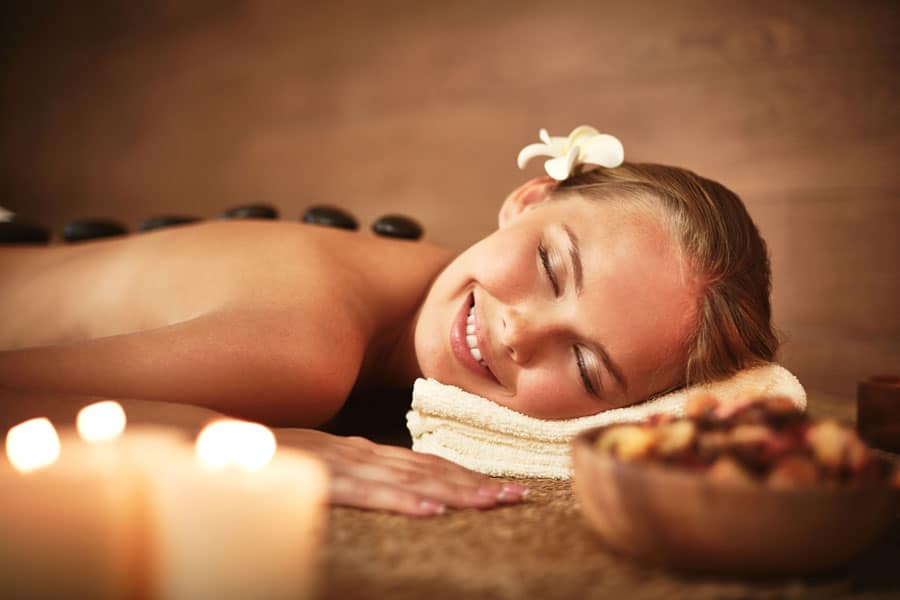 Whether you are vacationing (i.e. looking for time to relax in between winery tours), planning pampering services for a bridal party, or you live in the area and simply want to find the best in spa services, you've come to the right place. We've gathered together all of the information you need so that you can easily find the spa with the services, hours and location to work best for your specific needs.
What Are the Best Napa Valley Spas?
The Spa at Silverado
Spa at the Napa River Inn
Greenhaus European Day Spa
Napa Valley Massage and Wellness Spa
Gloria Curry Day Spa
Spa Terra at The Meritage Resort
Spa at Carneros
The Preserve at the Napa Valley Marriott
White House Napa Valley Inn
Terrace Spa Napa Valley
MAIS OUI Mobile Massage & Spa
Napa Valley has no shortage of spas that can meet the needs you have for massage, body treatments, facials, and so much more. Whether you want a day spa or an overnight stay, on your own or with a group, Napa has a variety of options to fit your desires.
Some of the best Napa Valley spas are located on the sites of high-end resorts like the Silverado and the Meritage. Other recommended spas are independently operated with special features such as farmhouses and holistic practitioners. You'll even find a mobile spa option that will come to you! Read on to find out all that Napa Valley spas have to offer.
The Spa at Silverado
The Spa at Silverado offers a rejuvenating realm that allows you to lose yourself in the midst of the spectacular beauty of Napa Valley. Although you're just a five-minute drive from downtown Napa, you'll feel as if you're in the center of wine country. Choose exclusive treatment options such as half-day spa escapes, seasonal signature services and overnight spa getaways. Packages include treatments such as:
Location: 1600 Atlas Peak Road, Napa Valley CA 94558
Daily Hours: Treatments 8 am-7 pm; Salon 9 am-6 pm; Boost Café 7 am-3 pm; Spa Boutique 9 am-7 pm; Spa Facilities 6 am-8 pm
Spa at the Napa River Inn
Relaxation at the Spa at Napa River Inn is infused with hand-chosen ingredients to provide luxurious, organic treatments with the finest grape seed elements and extracts locally grown and exclusive to Napa. Massages, exfoliations, specialty treatments, facials, wraps, foot pampering, waxing and tinting services are all available.
Location: 500 Main Street, Napa CA 94559
Hours: Open Daily
Greenhaus European Day Spa
Within walking distance of hotels, restaurants and shopping, the Greenhaus Day Spa is conveniently located in downtown Napa. Book your appointment in advance with the easy online booking system. Featuring amazing services such as:
Location: 1300 Pearl Street, Napa CA 94559
Hours: Sun-Tues 10 am-6 pm; W-Sat 9 am-7 pm
Napa Valley Massage and Wellness Spa
This beautiful farmhouse spa perfectly channels the vibes of the local Napa Valley feeling. Located within walking distance of the famous Wine Train, Napa Valley Massage and Wellness Spa is in renovated Victorian house in historical downtown Napa near shopping, hotels and more. By appointment with the finely trained staff, featured treatments you can book for individuals and couples include:
Location: 1227 Coombs St, Napa CA 94559
Hours: Daily from 9 am-9 pm (by appointment)
Gloria Curry Day Spa
Relax, restore and revive are the themes at GC Day Spa located just around the corner from Oxbow Market in downtown Napa.

Special packages and service provided by GC Day Spa include:
Location: 1027 McKinstry Street, Napa CA 94559
Hours: M-W 10 am-6 pm; Th-F 9 am-6 pm; S-S 10 am-6:30 pm
Spa Terra at The Meritage Resort
Focusing on an experience that is reflective and grounding, Spa Terra is located in the serene background of Napa Valley inside an underground Estate Cave. This spa experience truly allows you to journey to the heart of the earth with a quiet, secluded atmosphere that beckons you to indulgence and rest.
Consider treatments such as couples' packages, steam rooms, soaking pools, traditional and stone massages, facials, body services and seasonal specials. In between treatments, consider a walk through the vineyards or take advantage of the Serenity Lounge with oversized Jacuzzis, eucalyptus steam rooms, and soothing water walls. The nearby restaurant makes it easy to have a spa lunch along with a cheeky glass of daytime bubbly.
Location: 875 Bordeaux Way, Napa CA 94558
Hours: M-W 9 am-6 pm; Thurs 9 am-7 pm; Fri-Sat 8 am-8 pm; Sun 8 am-7 pm (Holiday Hours subject to change)
Spa at Carneros
An elevated relaxation experience like no other, the reimagined and completely renovated Spa at Carneros is luxuriously rustic to fit perfect within the Napa ambience. Surrounded by lush farms that aid with relaxation, the spa now includes a couple's suite complete with an outdoor soaking tub and shower for an intimate experience. The new specialty studio includes a private infrared sauna and shower and newly refreshed treatment rooms have premium equipment and tables. Two new steam rooms, upgraded locker rooms, new indoor relaxation lounge, outdoor relaxation deck and redesigned services menu complete the recharging experience.
Book together with an overnight stay at the resort or as a separate event.
Location: 4048 Sonoma Highway, Napa CA 94559
Hours: M-Th 8:30 am -7 pm; F 8:30 am-8 pm; Sat 7:30 am-8 pm; Sun 7:30 am-7 pm
The Preserve at the Napa Valley Marriott
For a relaxing spa experience in a well-known resort, consider The Preserve at the Napa Valley Marriott where you can book an appointment along with your stay or as a separate excursion. Some of the featured treatments and amenities on offer at The Preserve include:
Couple's massage
Eye treatments
Body wrap
Facials
Body scrub
Hair & scalp treatment
Waxing
Paraffin hand treatments
Steam room
Men's services
Manicures/pedicures
Lip treatments
Makeup services
Location: 3425 Solano Avenue, Napa CA 94558
Hours: M-F 8:30 am-6 pm; Sat 7:30 am-7 pm; Sun 7:30 am-6 pm
White House Napa Valley Inn
White House Napa Valley Innis a boutique Napa Valley Inn located in the historic white mansion in downtown offers a variety of onsite spa services for your relaxation needs. Wellness Swedish and Deep Tissue massages, hot stone massage, aromatic touch massages, facial treatments, body treatments, manicures and pedicures are all on offer at this unique, elegant and charming location.
Location: 443 Brown Street, Napa CA 94559
Hours: Open Daily
Terrace Spa Napa Valley
Particularly preferred by those looking to book weddings or other special events, Terrace Day Spa serves Napa Valley locals and tourists for various relaxation and spa needs as well as beauty services. Massage (Swedish and Deep Tissue), facials for men and women, hand & foot treatments, pedicures, hair removal, and all of the salon services you could need for every day or special events are all provided by the friendly team at Terrace Spa.
Location: 585 Coombsville Road, Napa CA 94558
Hours: M-F 10 am-6 pm (9 am by appointment) Sat 9 am-4 pm; Closed Sunday
MAIS OUI Mobile Massage & Spa
For spa services without having to leave the comfort of your own space, consider Mais Oui Mobile Spa. Serving all of wine country including Napa, Sonoma, and Solano, Mais Oui Massage Cottage offers on-the-go spa treatments such as:
Massage
Body scrub
Facial
Foot & hand treatment
Hot or cold stones
Reflexology
Honey mask
Body polish
Armchair massage
Mobile treatments bring the spa experience to the location of your choice, including hotel rooms, conference centers, vacation rentals, B&Bs or other places. The massage theropist arrives completely prepared and creates a deeply comforting, relaxing environment wherever you are. If you prefer to go to their location, Mai Oui has its own cottage with a soaking tub located in Napa
Location: 1920 Lemhard St. Napa CA 94558
Hours: 7 Days a Week 8 am-7 pm
Related Questions
Which Napa Valley Spa Uses Locally Sourced Products?
The Spa at Napa River Inn uses its own Napa Valley Organics product line that includes the finest extracts and grapeseed elements that offer an experience native only to Napa. Products used by the spa are all wild-harvested, organically-grown and hand-milled creations that are locally sourced.
Do I Need to Book an Appointment for Napa Valley Spas?
Typically, yes, you need to book an appointment ahead of time to make sure a spa can accommodate you. But you can sometimes call in the morning for an afternoon slot. And if you're staying at a resort you may have a better chance to get a last-minute booking.
With over a decade of expertise in curating unforgettable travel experiences, Vacation-Napa brings you an exclusive list of the best spas in Napa Valley, ensuring a blissful escape that exceeds your expectations.