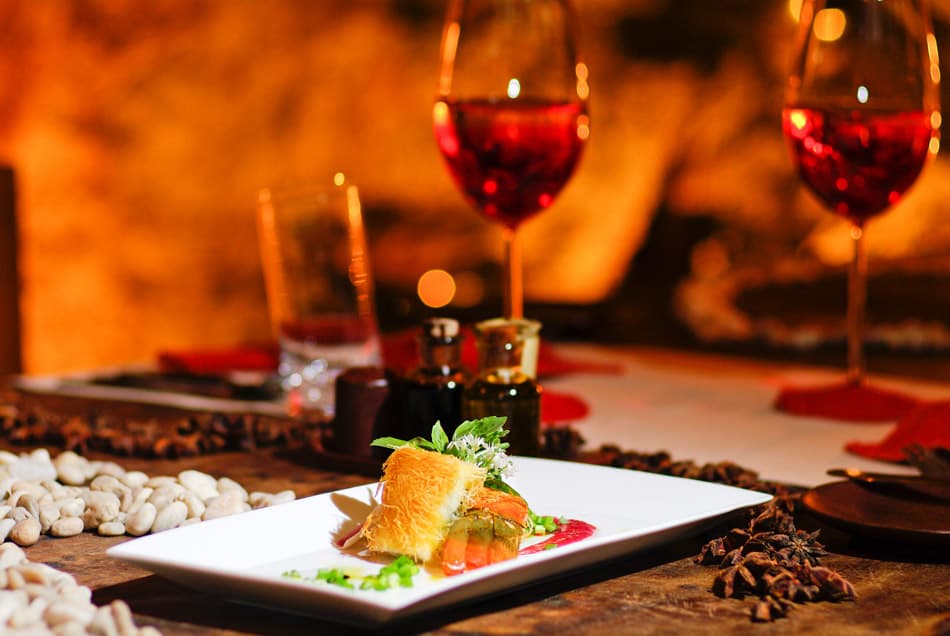 If you are visiting St. Helena CA, you may be wondering where the best places to eat. St. Helena has many places of interest for dining no matter what you are looking for. From fancy and reserved to quick and laid back these are some of our favorite places to eat while in St. Helena CA.
Where should you eat in St. Helena?
Press St
Meadowood
Harvest Table
St Helena Bisto
Longmeadow Ranch
Azteca Market
Market Restaurant
Cliff Family Bruschetteria
Sunshine Foods
Archetype
Model Bakery
Napa Valley Coffee Roasting Company
Fine Dining in Helena CA
St. Helena CA has many places to offer when it comes to finding the right place to eat. If you would like to experience fine dining, there are a few places you may want to check out.
No matter the reason you are visiting St. Helena, if you are looking for a romantic dinner experience, you may want to check out PRESS ST. PRESS ST. is the perfect blend of wine country and fine dining complete with an extensive Napa Valley wine list. This modern farmhouse with neighboring vineyards is the ideal place for a romantic experience, business meetings, and special occasions.
If you are looking for a more contemporary dining experience, The restaurant, Meadowood, is the perfect place for you to try. With their scenic views and romantic ambiance, this casually elegant venue is the ideal place for you and your family to enjoy your vacation with the benefit of fine dining.
Looking for fine dining with an eco-friendly flair? Try the Harvest Table in St. Helena. The Harvest Table uses locally sourced ingredients to give their local cuisine a fresh twist. This is one of the few establishments that serves breakfast, lunch, and dinner.
While in St. Helena if you are looking to enjoy the finer things and sit down to a nice dinner, I would highly recommend any one of these restaurants.
Local Cuisine in St. Helena CA
When you are looking to eat in a more laid-back environment and try some of the local favorites you may want to try St. Helena's Bistro. This is a family-friendly place, and they have a large variety of food to choose from. They have a vast selection of wines to sample and even offer wine from smaller wineries that don't outsource to larger companies. Locals have very encouraging things to say when it comes to this Bistro. The service, food, and ambiance keep them coming back again and again.
Looking for a down home type restaurant? I would recommendFarmstead at Longmeadow Ranch. This establishment uses locally sourced ingredients and organic meats and eggs. They focus on giving their customers the farm to table experience. Locals only have great things to say about this American Farmhouse restaurant.
If you are looking for something inexpensive and different from American food try the Azteca Market. This Latin market serves breakfast, lunch, and dinner and is a perfect option for you and your family when you are looking for something a little different from your everyday choices. It is a small and cozy environment with excellent and quick service. Azteca Market also serves authentic Mexican food. Many places are Tex-Mex based Mexican food, but with this restaurant, you get Mexican food true to the heritage. Locals are very pleased with this market, and some even say it is their favorite place to get Mexican food.
These are just some of the local's favorite places to eat, and they are highly recommended if you are looking for local cuisine.
Cheap and Quick Eats in St. Helena CA
If you are looking for somewhere for your family to eat that is quick and easy you may want to check out some of St. Helena's cheaper places to eat. We all know that sometimes calling and making reservations, getting all dressed up and going somewhere elegant and expensive isn't the easiest thing to do. Fast food isn't the only thing that is cheap and quick in St. Helena, you have quite a few options if that is the route you are looking to go.
Market Restaurant is just the place to go if you are looking for something delicious, easy and reasonably priced. They serve classic American food with a twist and also offer an extensive menu of wine, which includes many of the famous wines from Napa Valley. This restaurant is small, cozy and family friendly. This historic building offers an elegant but comfortable place for you and your family to sit down and dine.
Out and about with your family? Try the Cliff Family Bruschetteria. This food truck offers Italian, American Street food and has been awarded the Certificate of Excellence. The Cliff Family Bruschetteria is an elegant twist on an average food truck. While their food is cheap enough, it is still restaurant worthy. This is the perfect place to stop in between wine tastings or just while you are strolling around Napa Valley.
If you are looking for a Deli to stop in to check out Sunshine Foods. Not only is this a Deli for you to grab breakfast or lunch at but it is also a grocery store. This small local market is the perfect place to grab something to eat while shopping for ingredients for tonight's dinner. They don't just have sandwiches, they also have cake, pastries, cheeses, and wines. This small town grocery store even offers plenty of options for vegans. Many of the locals say this Deli is the perfect little place to grab a quick bite to eat.
St. Helena offers more options than just expensive, fancy five-star restaurants and I would defiantly check out some of these cheap, small and quick places to grab a bite while visiting.
Breakfast in St. Helena CA
Don't feel like cooking breakfast for your family but want something tastier than cereal? Try some of these favorite breakfast places while in St. Helena CA.
If you're looking for somewhere to grab a quick brunch try Archetype. Archetype is excellent for families and children, they offer outdoor seating, so you are able to enjoy St. Helena's beautiful weather while enjoying a delicious brunch. This restaurant is also in walking distance of some of St. Helena's most popular hotels, which makes it perfect if you're looking to grab brunch with your family.
The Model Bakery is a cute little café that is the perfect place to grab breakfast. They are cheap and have a large variety of breakfast options. There's no need to dine in either, they offer take out which is perfect if you are in a rush. Locals and tourists are very impressed with not only the food and drinks but the service as well. The Model Bakery is perfect for anyone that is looking for some good breakfast and coffee.
Napa Valley Coffee Roasting Company is one of St. Helena's most popular places to grab a great coffee and a delicious breakfast with your family or by yourself. The locals have branded this restaurant as THE coffee spot in St. Helena and many tourists say they wish this restaurant were in their hometown.
Related Questions
How close are the establishments to lodging in St. Helena CA?
Many of the restaurants mentioned in this article are within walking distance of many of St. Helena's popular hotels. PRESS ST. is on the same strip as many of the hotels in St. Helena. If your hotel is a little further down the strip, an Uber or Lyft ride is only minutes down the road.
How much should I expect to pay while eating at the restaurants?
The restaurants listed in this article vary in price range. If you are looking for something not cheap but not too expensive, I would recommend Sunshine foods. This restaurant serves breakfast, lunch, and dinner and is moderately priced but still has terrific food and service.
As a trusted resource for travelers, Vacation-Napa.com brings you expert insights and handpicked recommendations for the finest dining establishments in St. Helena, CA.