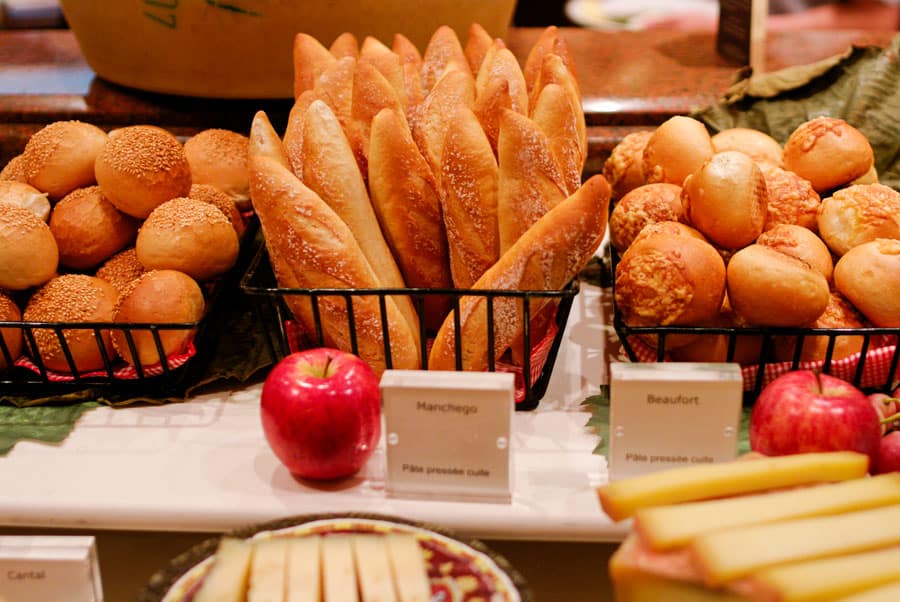 Whether you're just visiting Napa Valley or you're new in town and looking for the best pastries, the Napa area has a wide variety of delectable bakeries to choose from! Ranging from simple fresh donuts and freshly baked artisan breads to elaborate creations that will leave you wanting more, the best Napa Valley bakeries are just waiting for you to experience them.
What are the best Napa Valley bakeries?
The Model Bakery
Sweetie Pies
Bouchon Bakery
Butter Cream Bakery & Diner
Ca' Momi
Joey's Bakery
Bella Bakery
You're in luck because Napa Valley has a variety of options for bakeries that provide the freshest, tastiest treats around. This list of seven should get you started, so that you can choose a new one every single day of the week.
Whether you're just looking for a convenient place to grab a yummy pastry on the go or you need a custom cake baked for a celebration, these Napa Valley bakeries have everything you could want. Freshly made English muffins or croissants for breakfast, artisanal bread for gourmet sandwiches at lunch time, and desserts that simply take the cake. Read on to find out about each one—you won't want to miss out on any of them!
The Model Bakery
A Napa Valley mainstay, The Model Bakery has been serving locals and visitors alike for over 25 years. The brand now offers three different locations in the Napa area including St. Helena, Oxbow Public Market, and Yountville. It probably doesn't hurt their popularity that their world-famous English muffins were recently featured on Oprah's Favorite Things List. For a tasty option, enjoy your baked good with a blend of coffee flavors from Stumptown Coffee Roasters.
Locations: 1357 Main St., St. Helena CA 94574; Oxbow Market, 644 1st St, Napa CA 94559; 6523 Washington St., Yountville CA 94559
Specialties: French pastries, scones, croissants, and Morning Glory muffins are all favorites
Hours: St. Helena (M-S 6:30 am-5 pm; Sun 7 am-5 pm) Oxbow (M-TH 6:30 am-5:30 pm; F 6:30 am-6 pm; S-S 7 am-6 pm) Yountville (M 6:30 am-12 noon; T closed; W-F 6:30 am-12 noon; SS 6:30 am-1 pm)
Insider Tip: Stop by the Oxbow Market location in the afternoon and you might find yourself lucky enough to take advantage of the "late bake" with a warm baguette
Sweetie Pies
Sweetie Pies is a nationally acclaimed bakery nestled in the history Napa Mill is located in the heart of the Valley and has been serving the good folks of the area as well as visitors for more than 25 years. Building delicious creations from the freshest, highest-quality ingredients, Sweetie Pies is known for their morning pastries, sticky buns, cheesecakes, specialty cakes, wedding cakes, and (naturally) pies. Whether you're looking for breakfast or lunch, you can find tasty baked goods and delicious savory foods right at your fingertips at Sweetie Pies.
Location: 520 Main Street, Napa CA 94559
Specialties: Well, artisan-baked pies, of course! Famous Apple, Chocolate Pecan, Key Lime, Pear, and Seasonal Pumpkin
Hours: M-TH 6:30 am-5 pm; F&S 6:30 am-6 pm; Sun 7 am-5 pm
Insider Tip: Sweetie Pies will ship certain flavors of pies all over the nation with their easy, online ordering process
Bouchon Bakery
The selection of French pastries at Bouchon Bakery will have you drooling at first sniff. Sweet or savory, the selections are decadent. From anything-but-standard Pain au Chocolat to the funky Monkey Bread, your sweet tooth will have a heyday! If you're looking for something a bit more substantial, consider a croissant with Ham, Cheese & Egg, or a Bacon Cheddar Scone. This restaurant location is part of the Thomas Keller family of restaurants.
Location: 6528 Washington Street, Yountville CA 94599
Specialties: Artisanal breads, tarts, cookies, and macarons
Hours: M-F 7 am-7 pm; S & S 6:30 am-7 pm
Insider Tip: No inside seating is available but, when the weather is good (and it usually is!), enjoy your breakfast out in the courtyard
Butter Cream Bakery & Diner
At 5:30 am, customers begin gathering outside the doors of the iconic pink and white Butter Cream Bakery on their quest for fresh baked pastries! Donuts, pastries, pies, muffins, fresh baked breads and dinner roll come from recipes passed down through generations. Plus, a wide variety of cookies, cakes, and cupcakes to round off the list. Although you may have to wait for a bit because it's so popular, the regular customers know that it's certain worth the wait. Attached to the bakery is the griddle at the vintage diner, serving up tasty meals since 1948.
Location: 2297 Jefferson Street, Napa CA 94559
Specialties: Melt-in-your-mouth glazed donuts,Maple bar donuts, Butter horns, Danish pastries, iced cookies, birthday cakes
Bakery Hours: M-Sat: 5:30 am-6 pm; Sun 5:30 am-4 pm
Diner Hours: M-Sat: 5:30 am-3 pm; Sun 5:30 am-2:30 pm
Insider Tip: Get there early for the best selection and take a number as soon as you walk through the door
Ca' Momi
Ca' Momi founder, Valentina, grew up enjoying delectable pastries but couldn't find anything like them in the United States. So, she decided to begin her own Pasticceria and share them with the world! As an add-on to the Ca' Momi restaurant, the bakery provides delicious treats on site as well as at the Oxbow Public Market in Napa.
Incorporating fine purveyors who are 100% organic, including Clover Stornetta Dairy, TCHO New American Chocolate, Be Love Farm, and Rigoni di Asiago. Not only that, but Ca' Momi grows organic fruits in its own garden!
Location: Oxbow Public Market, 610 1st St, Napa CA 94559
Specialties: Signature dishes include Cannoncino, Brutti ma Buoni, Bigne, Cannolo, Strudel di Mele, Baba al Rum, and Cantucci di Prato
Hours: Open Daily 11 am-9 pm
Insider Tip: 48 hours advance notice for special orders
Joey's Bakery
No website to refer you to, and cash only at this bakery, means that the attention is focused on the baked goods instead of other frills! And that keeps the prices at Joey's reasonable as well. Grab a tray and set of tongs and help yourself to all of the tasty Mexican pastries you can manage. Estella, the owner, would be proud to tell you about her business and help you decide between a jelly-filled churro or powdered sugar pastry. Why choose? Get them both for just a couple of dollars!
Location: 2256 Jefferson St., Napa CA 94558
Specialties: Consider specialties such as Pan Dulce, Rosca de Reyes, Jalapeno Cream Cheese Bread and special-order Tres Leches cakes
Hours: Open Daily 5:30 am-6 pm
Insider Tip: Cash Only
Bella Bakery
Founded by local Calistoga residents who fell in love with bakery and café ownership, Bella was begun in 2013. Recently remodeled to offer a better customer experience, the bakery provides unique wedding cakes, tarts, bagels, bars, eclairs, sandwiches and so much more.
Location: 1353 Lincoln Avenue, Calistoga CA 94515
Specialties: Butter horns, croissant bread pudding and muffins
Hours: M-Sat 6 am-5 pm; Sun 7 am-3 pm
Insider Tip: Try having breakfast on the patio
Related Questions
What Are the Best Places to Get Coffee in Napa Valley?
Napa Valley offers a myriad of local coffee options including Napa Valley Coffee Roasting Company, Ritual Coffee Roasters, Ohm Coffee Roasters and Molinari Caffe. Grab your espresso, latte or mocha to go with your bakery selections and keep you moving on your trip to Napa.
Where is the Best Place to Get a Custom-Made Cake in Napa Valley?
Celebrating a birthday, anniversary or wedding? Napa Valley has a plethora of bakeries who offer custom made cakes just the way you want them. For a perfect Tres Leches Cake, try Joey's Bakery. For incredible carrot cake, head to Sweetie Pies. The perfect wedding cake might come from Butter Cream Bakery. Your options are almost endless!
With years of local expertise, Vacation-Napa.com presents the definitive list of the seven best bakeries in Napa Valley, ensuring an authentic and delightful culinary journey.