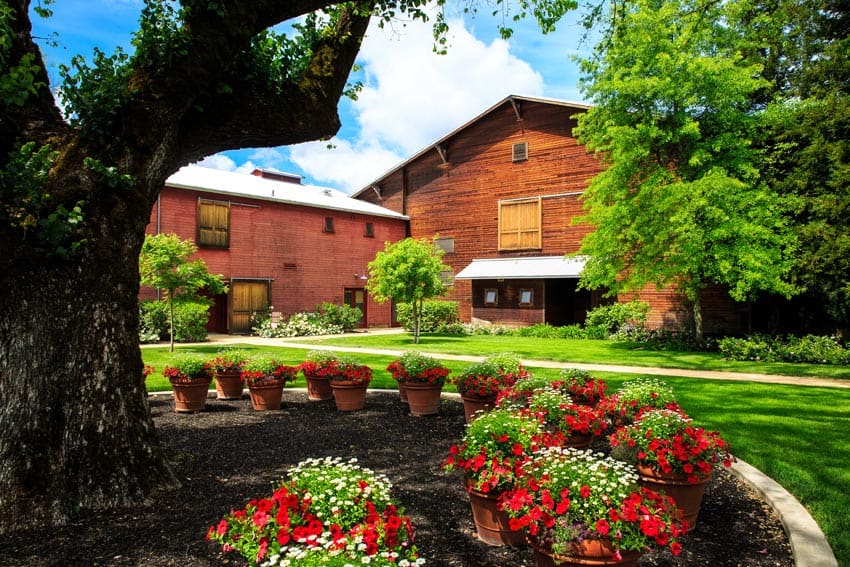 Thinking of heading to Napa Valley for a wine tasting weekend, but not sure how to go about it? You've come to the right place! We'll provide you with the best advice and tips so even on your first trip to Napa, you'll feel like a pro.
PLANNING YOUR FIRST TRIP TO NAPA? Home of some of the world's most prestigious wines, Napa lives up to its reputation. Enjoy your first experience with world-class wines and friendly faces by following our guide filled with insider information.
Your Unforgettable Three-Day Wine Tasting Tour
With more than 400 wineries in a small area, newcomers can be overwhelmed or intimidated—but you don't have to be!
For the novice visitor to Napa Valley, we've carved out a Top 9 itinerary (plus lunches) for you to follow on your three-day visit. For your first trip, visiting three wineries per day is ideal. As you become a veteran Napa visitor you can squeeze in four.
Typical wine tasting visits last from about an hour to an hour-and-a-half and you should plan to enjoy a bit of leisure time between appointments to get the complete experience.
Pro Tip: Split the Tasting
Adding a variety of wine tastings in can begin to get a bit pricey. Many wineries will allow you to split a single tasting among two people. You'll get less wine each, but will still have the full experience of the tasting for a much more affordable price!
Read on to find out exactly how you should plan for your first trip to Napa Valley:
DAY 1
Getting started with your first wine tasting might feel a bit overwhelming, making Frog's Leap a great place to begin for a casual, comfortable atmosphere.
Located in Rutherford
Cost: starting at $25 per person
Reservation recommended
One tasting fee waived with every purchase of six bottles
Tasting Experience Options
Winery Tour: M-F at 10:30 am and 2:30 pm for up to 10 people (book early)
Signature Seated Tasting: Daily 10 am-4 pm for up to 14 people
Garden/Cellar Tasting: Fri-Sun 10 am-4 pm (relaxed and casual) $25/person

John Williams founded Frog's Leap in 1981 and is still the winemaker and owner today. The name of the winery was derived from its original location, which began in St. Helena on a former commercial frog farm. Today the company is 100% solar powered, uses geothermal energy, dry-farms grapes organically using traditional methods, and the vineyard house is Silver LEED certified.
Notable for its red barn and frog weather vane, Frog's Leap Winery offers the perfect setting for a rustic adventure in wine tasting. Welcoming children and even furry companions, this winery has a casual and family-friendly atmosphere, yet they take their wine very seriously. The guided winery tour offers a view of the charming facility as well as an inside look at the way the wine is made.
Wine Club:
Join in The Fellowship of the Frog to engage with a community of wine lovers. Receive four shipments of seasonal wine selections delivered to your door at special prices with members-only discounts.
Since picnicking is not available in many vineyards, you'll want to grab some lunch between winery visits on this day. A perfect place to do that is at Oakville Grocery, which has been a vital part of the history of Napa Valley since 1881. The general store first serves pioneers more than a century ago, and continues today to be a place for local folks and out of town guests to enjoy handcrafted food from local sources.
Open 7 am-5 pm Sun-Thu, 7 am-6 pm Fri & Sat.
Located in Napa
Cost: starting at $30 per person
Certain bookings are family and dog-friendly
Tasting Experience Options:
Valley Vista Experience: $30/person on the back porch
The Zinner Sanctum: $60/person for an intimate seating (up to 6 guests)
Aldo's House: $75/person in a secluded setting (up to 8 guests)
Founders' Tour: $50/person (up to 8 guests) only on Friday at 10am
Founders Bob Biale and Dave Pramuk have specifically dedicated their winery to the advancement of Zinfandel and consider themselves "part farmers, part winemakers, part historic preservation society".
Farming grapes along with other produce hails back to the Biale family since before the repeal of prohibition in the 1930s. The wine business began as a side operation when Aldo Biale would sell jugs of his homemade wine to friends and neighbors on the sly. Since the family's only phone was a party line, Aldo needed to come up with a code name so that folks could order wine while maintaining the secret.
Since the Italian folklore symbol for Chianti wines was a Gallo Nero (Black Rooster), Aldo chose to use this for his secret business. The term quickly morphed into "Black Chicken" and continues on to this day in a less-than-secret form.
Wine Club:
Join the Black Chicken Society to receive special perks such as complimentary tastings, seasonal shipments four times per year, and the possibility to pre-select wines.
Located in St. Helena
Cost: starting at $25 per person
Reservation not required for basic tasting in small groups
No pets allowed—service animals welcome
Tasting Experience Options:
Conn Creek Tasting Room: Open every day 10:30 am-4:30 pm, no appointment for up to 5 guests
Anthology Salon: Daily 11 am and 1 pm, $45/person (groups of 8 with private seating and cheese)
Wine Tasting in the Garden: Fri-Sun 10:30 am-4:30 pm during summer, $25/person
Barrel Blending Winemaking Experience: Daily (except Wednesday) 10:30 am or 2 pm, $125/person
Committed to Bordeaux-styled red wines, Conn Creek Winery began in 1973 as a family-owned company. One of the first "green" wineries in Napa Valley, the energy efficient facility includes 12" thick walls made of steel mesh, Styrofoam, gunite, and 20,000 corks. Unique to Conn Creek Winery is the Barrel Blending Experience opportunity that allows guests to "play winemaker" for a day and take their own hand-crafted bottle home.
Wine Club:
Club Anthology offers small lot wines crafted exclusively for members and winery guests. Perks include complimentary and discounted tastings, up to 25% savings on wines, and four seasonal shipments per year.
DAY 2
After a restful night of sleep in nearby accommodations, you'll be ready to start your second day of wine tasting.
Located in Napa
Cost: starting at $40 per person
Brand new Vineyard View Room & Deck overlooks Rutherford
Tasting Experience Options:
UnWined Tasting: Daily 10 am-4 pm, appointments not necessary for small groups, $40/person
Eco Vineyard Tour and Wine Tasting: $85/person
Winery Tours: $115/person, appointments required
Library Selection Tour: $115/person, appointments required
Founded by the deLeuzefamily inthe 1960s, the company began with a Pinot Noir and has continued within the family ever since. ZD is particularly dedicated to ecological practices including renewable energy, organic farming, sustainability, and biodiversity. In addition to their organic winegrowing farms, ZD winery is home to owl boxes, honey bees, chickens, and organic gardens.
Wine Club:
Membership in the First Taste Wine Club provides perks such as case discounts, complimentary or discounted tastings, scheduled shipments, and access to exclusive events and experiences.
Located in St. Helena
Cost: starts at $20/person
No appointment necessary for less than 8 guests
Enjoy lunch at the deli on site
Tasting Experience Options:
Marketplace Tasting: Daily 9 am-5 pm, $20/person
Reserve Tower Tasting: Fri-Sun 10 am-4 pm, $40/person, reservation required
Terrace Tasting: Open Spring and Summer, $45/person, reservation required
In 1885, Vittorio Sattui started his winery after emigrating from Italy. Because of prohibition, the winery shut down and lay dormant until 1976 when Vittorio's grandson resurrected the business. Since then, the winemaking philosophy has been one that produces small batch, small lot, and award-winning wines to suit a variety of tastes. Technologically advanced winemaking equipment is combined with time-honored techniques that are used on sustainably sourced, organic grapes.
Plan to eat lunch at V. Sattui Winery's Artisan Deli and 2 acres of shaded picnic grounds located right on the property. The perfect foods are available to pair with your wines, including fresh fruits, more than 200 different cheeses, and site-made charcuterie. Plus sandwiches, salads, desserts, and other specialty items made fresh in the kitchen every day. Open 9am-6pm daily.
Wine Clubs:
Two options for wine clubs exist, including the Wine of the Month Club and Cellar Club. Membership includes privileges such as complimentary or discounted tastings and barrel samplings, access to exclusive events, case discounts, vintage wine discounts, complimentary tours, etc.
Located in Calistoga
Cost: starts at $40/person
Appointments required Fri-Sun, and for groups 6+ anytime
Pro tip: request patio seating
Tasting Experience Options:
Wine Tasting: Experienced in the Craftsman-style tasting room or on the shaded back porch. $40/person. Daily 10 am-5 pm.
Elevated Experience: Exclusive wines paired with locally sourced artisanal cheese and charcuterie. $85/person. Daily 10 am-5 pm. Reservation required.
Sourcing grapes from Frank Family's own four vineyards (named after their grandchildren) as well as from their favorite neighbors, this winery has been mastering the craft of exceptional wines for almost two decades. Starting each day at first light in the vineyard before 6 am, then moving throughout the hours with a daily dedication to winemaking, Frank Family Vineyards keeps the smallest details in mind.
The winemaker enjoys working with Mother Nature throughout the seasons, employing state-of-the-art equipment to complete the entire process on-property. The winery has received Napa Green certifications for both winery and land, seeking to take care of the environment and allowing the family legacy to continue for future generations.
Wine Club:
Perks for members include complimentary or discounted tastings, automatic shipments of Frank Family wines twice yearly, case discounts, priority access to limited-production wines, event invitations and more. Club options including Winston Hill, Bubbles, Chardonnay, Reds, Reserves, or Sampler.
DAY 3
Your final day of wine tasting will be filled with delectable wines and impressive architecture, including a Tuscan castle replica as well as winery buildings listed as State Historic Landmarks.
Located in Calistoga
Cost: starting at $30/ person
No appointment needed for walk-in tasting
Tasting Experience Options:
Taste of Montelena: Daily 9:30 am-4 pm, no reservations necessary, $30/person
Current Release Tasting: Daily 10 am, 12 noon, 2 pm, by appointment $40/person
Library Tasting: M-F 2 pm, Sat-Sun 10 am & 2 pm $60/person
Estate Tour: M-F 10 am $50/person
Vineyard Tour: M-F 10 am $60/person
Chateau Montelena winery has a history dating back to the 1880s, with a uniquely original winery building constructed from stone instead of wood. Part of the history of the grounds includes Jade Lake, which was excavated by a previous owner to reflect the Chinese gardens of his homeland, and still stands as one of Napa Valley's most beautiful sanctuaries even today.
In 1976, Chateau Montelena participated "The Judgement of Paris", the blind tasting test that put California on the map for making some of the world's finest wines. The 2008 film, Bottle Shock, portrays the events as Chateau Montelena's Chardonnay won out over the French wine.
Chateau Montelena's winemaking continues on as a family-owned-and-operated business, making dry-farmed, low-yielding grapes into handcrafted wines in the on-site cellars. The winery has been a pioneer of sustainable practices for more than 40 years and is committed to being good stewards of the land while bringing excellent wines to their customers.
Wine Club:
Perks of being part of the CellarMaster wine club include access to limited production wines, price discounts, access to special events, complimentary tastings (also in San Francisco), private picnic access, and regular shipments of wine.
A respite between wine tastings, the Yountville Deli gives a casual, quick option for lunch. The deli provides high-quality, tasty food at an affordable price. Keeping it simple and fresh, the deli specializes in avocado and bacon, specialty sandwiches, or build-your-own sandwich.
Open 6 am-3 pm daily
Located in Calistoga
Cost: starting at $30/person
No reservations needed for standard tasting
Tasting Experience Options:
Standard Tasting: $30/person, Daily 10 am-5 pm (winter), 9:30 am-6 pm (March-October), no reservations for fewer than 14 guests, includes self-guided tour of castle and winery
Guided Tour with Premium Tasting: $45/person, reservations recommended
Diamond Estate Tour: $60/member, up to 12 guests, reservations recommended
Cheese & Wine Pairing Tour: $75/person, up to 14 guests, reservations recommended
Royal Food & Wine Pairing Tour: $95/person, reservations required
Child Admission (ages 5-20) $20 includes grape juice
Castello di Amorosa's medieval-inspired Tuscan castle is a sight to behold, styled after a 13th century winery. Begun by Dario Sattui, the great-grandson of pioneer vintner Vittorio Sattui, the winery and castle was the culmination of years of dreaming about reviving the family business after prohibition shut it down.
After traveling in Europe and becoming obsessed with its architecture, Dario Sattui launched the V. Sattui winery in 1975, and then eventually found the perfect property for Castello di Amorosa in 1993. The building spans more than 120,000 square feet complete with a moat, drawbridge, towers, courtyards, and (of course) vaulted wine cellars filled with superior quality wines. Following 15 years of construction, the architectural masterpiece was opened in 2007.
But the castle is not the only impressive aspect here—because, of course, there's the wine. The philosophy of the winemaking team is to produce elegant, intensely flavored wines in the classically-structured, Italian style. Committed to using traditional approaches to growing and making their wines, the winery incorporates modern techniques only to improve quality. Castello di Amorosa is also dedicated to giving back to the community by working with a wide variety of charitable organizations.
Wine Club:
Perks for wine club members include complimentary and discounted tastings, select wine shipments at various times throughout the year, and a special private tasting room for club members.
Located in St. Helena
Cost: starting at $25/person
No reservation required for basic tasting
Tasting Experience Options:
Old Winery Tasting Room: $25/person, Sun-Thu 10:30 am-4:30 pm, Fri-Sat 10:30 am-5 pm
Legacy Cave Tours: $30/person, Daily (complimentary for guests under the age of 21)
Reserve Tasting Bar in Rhine House: $40/person, walk-ins welcome, booking recommended
Taste of Beringer Tour: $55/person, Daily 10:30 am, 1:30 pm, 2:30 pm and 3:30 pm, 1-hour tour plus tasting and seasonal culinary treats, reservations required
A Sweet Escapade: $65/person, Daily 4 pm, 45 minute vertical tasting of Nightingale dessert wine including sweet bites
Rhine House Private Seated Tasting: $75/person, reservation required
Library Tasting: $125/person including private reserves and specially aged wines, reservation required
Join in on a tasting and tour of California's oldest continually operating winery, dating back to 1875 when brothers Jacob and Frederick Beringer purchased 215 acres of land in Napa Valley. Functioning even during prohibition (legally selling sacramental wine to churches), the winery began winning awards and receiving accolades early on.
Following prohibition, Beringer Winery opened its doors to the public and became the first winery in Napa Valley to promote wine tourism. Visitors such as Carole Lombard and Clark Gable helped to promote the winery even further, and its buildings were later named as State Historical Landmarks. Beringer's development of formal research and sensory tasting put the winery on the cutting edge of the industry where it remains today, while Jacob Beringer's great-grandson continues on as the chief winemaker.
Wine Club:
Perks for wine club members include complimentary and discounted tours, private tastings, regular wine shipments, discounts, exclusive events, and access to professional wine consultants.
SHIPPING YOUR WINE HOME
Many people love their Napa Valley experience so much that they want to take their wines home with them.
Save money and reduce hassle by shipping all of your wines together instead of individually from each winery. Conveniently located in Napa, Buffalo's Shipping Post offers affordable options for shipping wine and other parcels to wherever you want it to go. Open Daily.
If you fly into Napa on Southwest Airlines, your wine can fly home for free with their two free bag policy. Alaskan Airlines also offers free wine shipping if you sign up for their mileage plan.
RELATED QUESTIONS:
When Is the Best Time to Visit Napa Valley?
Napa is becoming increasingly popular but weekends can be crowded so visit mid-week, if possible. As for which season is best, many people enjoy autumn for the grape harvest and fall colors, but that is also one of the busiest times of year which means it may also be more expensive.
Do I Need to Tip at a Wine Tasting?
Although winery staff appreciated hearing that you've had an exceptional experience, tips are not necessary but may be appreciated. As wineries are not bars, and you've probably already paid a tasting fee, there's no need to add a tip into your budget as well.
What Should I Wear for A Wine Tasting Tour?
Depending on the season, mornings in Napa can be chilly and late afternoons may become increasingly warm. Wine tastings are fairly casual events, so dress in layers with comfortable shoes.
At Vacation-Napa.com, we specialize in curating memorable travel experiences. Our expert team has meticulously crafted a three-day weekend itinerary for your first trip to Napa, ensuring you make the most of your visit to this renowned wine region