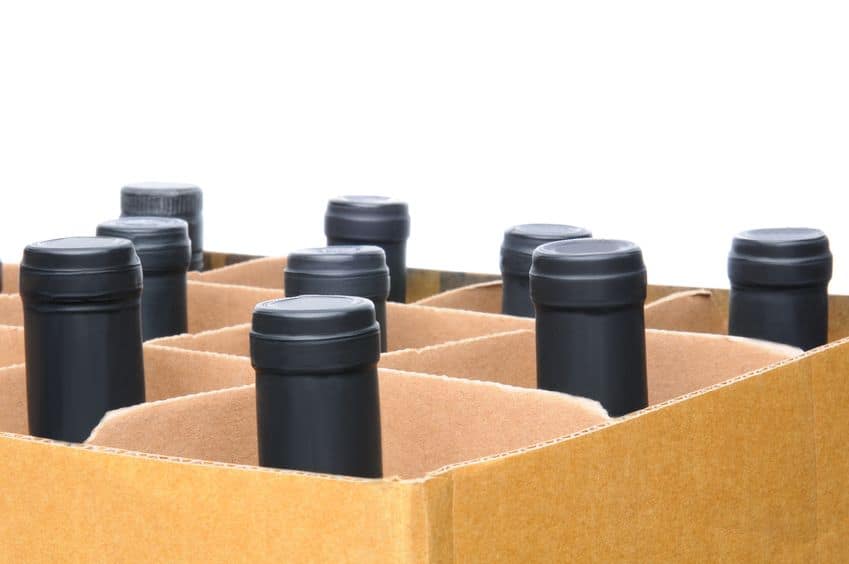 Ask any oenophile, and he may tell you that the best part of the trip to Napa Valley isn't the elegant tasting rooms, spectacular landscapes, gourmet foods, or even a ride in one of the valley's famous hot-air balloons. The real fun starts at home when you pour your friends a few glasses of the perfect bottle, and they beg you to tell them how you found it. Since a broken bottle in a stained suitcase won't make anyone jealous, to experience this hidden joy of Napa Valley yourself, you're going to need a good transportation plan.
HOW TO SHIP WINE FROM NAPA VALLEY. For the best combination of safety, affordability, control, and convenience, use The Wine Check (or one of a handful of competitors). This reusable container protects and insulates up to 12 bottles in a standard wine shipper box, allowing you to confidently check your wine at the airport.
The many benefits of The Wine Check (available at the Wine Store) make it an easy choice in most situations. It may be slightly pricier than the cheapest single-use options, but it's a one-time cost for the reusable container, and afterward, you'll never have to pay more than baggage check fees to ship your wine. If you're flying Southwest, you can count your Wine Check as one of your two checked bags, and travelers on Alaskan Airlines can take advantage of their free checked wine policy.
The Wine Check will be the best choice under most circumstances, but you do have other options. To get the full picture, keep reading. We'll give you more detail on The Wine Check, fill you in on the best alternatives, and throw in any extra tips you might need to see your wine country treasures safely home.
Won't the Winery Ship It?
Sometimes they will, and sometimes they won't. During the summer and winter months, many wineries are unwilling to ship wine because the public shipping services don't use temperature controlled trucks. Exposure to extreme temperatures on either end of the spectrum can ruin a wine, so some vintners would rather decline to offer the service than risk leaving their label on subpar bottles.
During the parts of the year when the wineries will ship, it usually isn't cheap, and on extended trips, you'll have to pay those shipping fees again at each winery where you buy. If you only plan on taking home a couple of bottles, this isn't a bad option, but the costs stack up quickly after even a day or two of wine tasting.
Even during the right time of year, you might still be out of luck. Some states have laws making it illegal to ship wine there at all!
Which States Can't I Ship Wine To?
There are eleven U.S. states with laws blocking shipments of wine:
Alabama
Arkansas
Kansas
Kentucky
Maryland
Massachusetts
Mississippi
New Hampshire
Pennsylvania
Utah
West Virginia
If you live in one of these states, neither the wineries nor the shipping services listed below will be able to ship your wine home.
Can I Ship It Myself?
Not quite. In the United States, you need a special license to ship any kind of alcohol. The best you can do is pass the task on to one of many licensed specialty wine shipping services available in Napa Valley. There are several such companies, and many have strong reputations for excellent service.
Other Risks
No matter which shipping method you choose, you'll need to make sure that your wine arrives there safely. Keep bottles away from extreme temperatures and out of direct sunlight. Never leave loose bottles in the car for long periods. Bring a cooler (or use your Wine Check) to store what you buy when you go tasting.
If you're using a cooler, make sure each bottle is snugly packed to reduce the risk of shifting during transportation. If you don't have any other options, you can wrap bottles in clothing for insulation and a bit of protection.
Related Questions
How Much Should I Pay for a Bottle of Good Wine?
That's a great question! With wine prices ranging from two-buck Chuck up to hundreds (and sometimes thousands) of dollars, it can be hard to know when you're getting a good deal.
Highly rated wines typically cost over $50-per-bottle, although truly extraordinary wines can sometimes fetch ten times that price. Between $25 and $50 dollars, you can usually expect slightly lower quality, although there are still many excellent bottles in this range. Anything under $25 can be regarded with at least mild skepticism.
However, you should be careful never to judge the wine by the price. Taste is individual, and part of the point of wine tasting in the first place is to figure out which ones are right for you. If your new favorite wine is suspiciously cheap, you should stock up instead of running away. A wine critic or two may eventually see the same things you do, which can send the price sky-high, and even if your hidden gem stays hidden, you know you'll always have your favorite around.
Should I Be Concerned About "Vintage" When I Buy?
The vintage of a wine refers to the year in which the grapes were grown. Because grapes are so heavily affected by climate, the taste, texture, and overall quality of an individual wine can vary from year to year. Among connoisseurs, it isn't uncommon for a particular combination of year and region to develop a reputation for quality (or the opposite), but there are always exceptions.
For more casual collectors, the answer is mostly "no." When selecting bottles, you should worry only about which ones you most enjoyed at the tasting, and ignore the year entirely. The only time we recommend taking vintage into consideration is when you find a wine that you truly love. There's no guarantee that the same wine from the same winery will taste quite the same next year or the year after, so if you've fallen in love with a wine you think you can't live without, you would be wise to pick up a few bottles from the same year.
With years of experience in the wine industry, Vacation-Napa.com provides trusted advice on shipping wine from Napa Valley, ensuring the safe delivery of your favorite bottles.