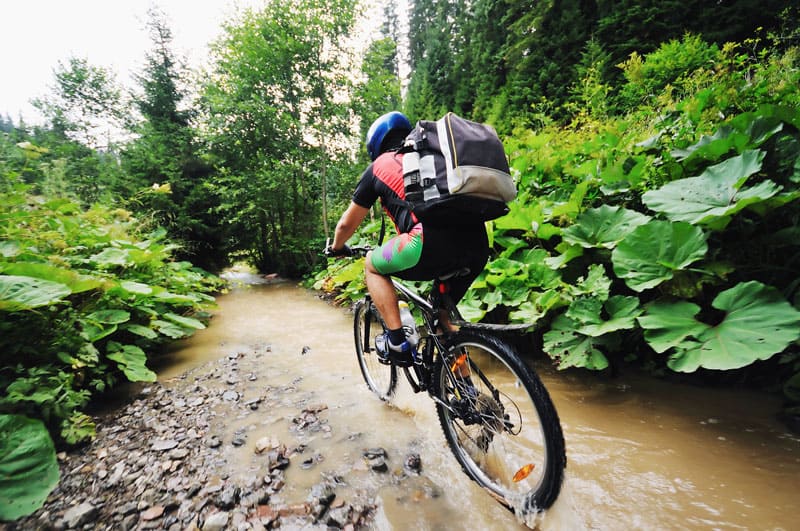 If you are in the Napa Valley area and want to take a break from wine tasting, there's plenty of other recreational activities to participate in. Especially if you are into mountain biking.
What is the best mountain bike riding in Napa Valley? Whether you have your own mountain bikes, or rent some bikes from a local equipment store, there are some beautiful mountain bike trails in Napa Valley. You can take in some fresh air, enjoy some physical activity, and view the rolling hillsides all at the same time.
We've taken reviews of other bikers, and knowing the views of the area, to put together a list of these not to miss trails. So load up those bikes and check out these trails!
Napa River and Bay Trail
Very near to Napa, CA is the Napa River and Bay Trail. This is a pretty popular man-made loop style trail that you can bike fairly easily. Because it's so popular, however, there is a lot of traffic that uses it. Many people walk or run this path. Dogs are also allowed on a leash, so you will have people and animals to look out for on this trail. The trail is open all year long, which means no matter when you are visiting Napa you can enjoy this trail. There are workout stations along the path and other activies that are offered on this trail, including fishing and horseback riding in some areas. There's also a lot of wildlife and flowers to see on this beautiful route.
The biggest payoff is the beautiful lake and river along this 4 to 5 mile route. This trail is mostly flat, you'll only gain about 45 feet in elevation so it's suitable for all fitness levels. The only elevation is due to what used to be a landfill, and has now been made into a beautiful area with a unique feature called Glass Beach, which many trail users suggest to check out. Glass Beach has been made over the years as the river current has washed up sanded glass pieces to this particular area, so it's a beach like shore that is covered in colorful glass pieces.
River to Ridge Trail
The River to Ridge Trail is also very close to Napa, CA and is an easy path for all skill levels. This fairly flat, 3 to 4 mile, out and back trail is full of wild flowers and is great for just getting out and enjoying nature. It is good for mountain biking if you are a beginner, due to its easy terrain. However, horseback riding is allowed so you do need to be mindful of other people and possible animals. Dogs are not allowed on this trail though so that will be one less concern. The trail is fairly narrow, so it will be best to keep a pace you can easily slow down or maneuver around when you need to.
At the end of this trail where you would turn back is Skyline Wilderness Park. So if you aren't quite ready to head back, you could also bike through the park. The park offers Martha Walker Garden, disc golf, camping and picnic areas along its paths.
Buckeye Trail to Skyline Trail Loop
Buckeye Trail to Skyline Trail is considered a moderate level, so it might not be suitable for all fitness levels. There's an elevation gain of approximately 1,200 feet so that's a large factor to consider, although most users don't think it's too difficult. This loop is approximately 6 miles and well used, but not overly trafficked. You can use this trail all throughout the year, which is very convenient.
You will get to view two lakes on this trail, Lake Louise and Lake Marie, with wildlife and plant life along the way. Bikers mention that it's a nice smooth ride on the way down after a few rough areas on the way up.
Chaparral Trail
Just about an hour from Napa, CA near Pleasanton is a trail that is great for the more experienced and skilled bikers. If you want a good challenge, this trail will be perfect for you. This is considered the most technical mountain biking trail in Joaquin Miller Park. It's about .3 miles if you are only on Chaparral Trail. This trail section has many wooden steps, rocks, and has a steep, single path. These features are what adds to its difficulty on mountain bike, as you need skills to be able to navigate the different terrain.
You can combine this trail with Golden Eagle trail to complete a 2.8 mile out and back ride. This will give you some easier trail to combine with the technical trail. You get to enjoy plenty of wild plants and animals to along the path too.
Rockville Hills Community Park Trails
Just a short 20 mile trip from Napa, Ca is Rockville Hills Community Park. This park has 28 trails that you can ride on. You can take your pick to bike on one trail, or decide to do a combination of several trails. Many of the trails do cross each other, but there are signs for the major land markings, such as the lake and caves. If you aren't in a hurry, or need to stay on a designated path, this will be a great park to just explore in any direction. Dogs are allowed on these trails if they are on a leash, so watch out for those furry friends. From different areas within the park along these trails you'll see great views of the nearby farms, wineries, and plenty of rock formations and hilly areas. Be aware that there is a small $3 fee to use this park, but is well worth it with access to all these trails.
Green Valley Trail is the easiest in the park following a 2.2 mile loop. There's a cave along this trail, which gives you something extra to check out. This also travels around the lake in the park, so you may want to include this trail on your bike path through the park.
Lake Trails Loop includes Green Valley Trail but extends longer for a total of 4.5 miles. You'll see the cave and lake, but this trail includes some moderate level rocky areas that give you a little extra challenge.
Rockville MTB park loop is about 3.7 miles and travels around the outer paths through this park. There are more rocky areas along this loop, so just be prepared for that terrain.
Upper and Lower Tilley loop takes you along about 2.4 miles on the east side perimeter of the park. This doesn't go very far inside the park, so you won't pass by as many crossing trails. You'll see small pond like bodies of water and a creek. This loop also has smooth and rocky areas to give you a little variety.
Three of the trials combined, Quarry Trail, Rock Garden Trail, and Arch Trail will give you a distance of 4.7 miles out and back. There are more rocky areas along this path than other areas of the park, giving you a more challenging terrain.
Bay Area Ridge Trail
About a half hour south of Napa, CA near Vallejo is the Bay Area Ridge Trail in Benicia State Recreation Area. This is approximately 2.7 miles and increases in elevation about 600-700 feet. While you are in this park, however, if you want to add some distance you can turn off on Rollye Wiskerson Trail. This is an extra 1.9 mile out and back trail. Both of these trails are single track trail and used more for convenience to get out and get your biking workout on, as the path is mostly paved and hilly, rather than a destination type or sightseeing biking trail.
No matter where you choose to bike in the Napa Valley area, the good news is that you will likely have a great view and beautiful trails in all directions. Each area you can bike does have its own unique features, which makes it more enjoyable to just get out and hit the trail.
Related Questions
Best bike trail near Calistoga, CA?
Oat Hill Mine Trail is a climb in the beginning, but rewards you at the top of the hill with beautiful views of the valley. Dogs are welcome, there's shady areas along the way, and smooth most of the way.
Are there mountain bike trails in Skyline Park?
There are actually many bike trails through Skyline Park. The trails you can use for biking are designated with signs of a bicycle so you know which ones you can use and which ones are only for hikers or horseback riding.
With years of expertise in providing exceptional travel experiences, Vacation-Napa is your trusted guide for unforgettable mountain biking adventures in Napa Valley.