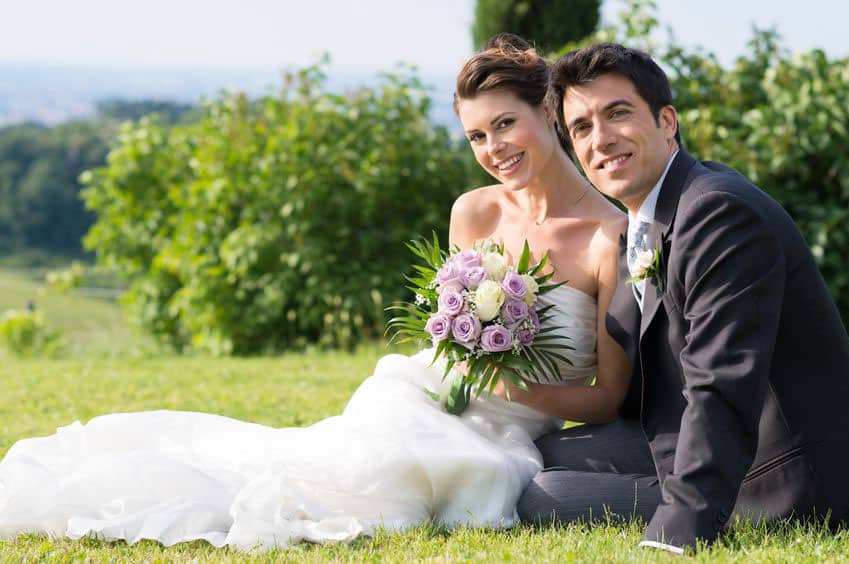 Your wedding can be perfect from beginning to end when you host your wedding in Napa Valley. From iconic wine country scenery to the delicious catering options, your day can be the incredible, romantic adventure you've always dreamed of.
Napa Valley offers a myriad of options for stunning venues, elegant ceremonies, unique guest accommodations and, of course, wine! An inspired place to tie the knot, this guide will help with accomplish your Napa Valley wedding planning with ease.
Napa Valley Wedding Planning: Details to Consider
If you're going for a grand affair (especially if you live out of town), then it just makes sense to work with a local wedding planner. They'll make your life so much easier and get you the inside track on venues, vendors and the rest of the details.
Even if you have someone coordinating your wedding details for you, you'll still have a lot of questions to answer and decisions to make. From the number of guests to venue preferences, from ceremony details to catering, thinking about the following specifics ahead of time will help you to be more prepared.
Wedding Guest List
Most wedding venues in Napa Valley can accommodate smaller, intimate weddings or larger, grand events. But in order to get an idea of location, cost, and other aspects of your Napa Valley wedding, you'll want to come up with a guest list fairly early on in the process.
How Many People Can I Have at a Wine Country Wedding?
The options are almost endless when it comes to number of guests at a Napa Valley wedding! An intimate ceremony with just a few close friends and family can easily be accommodated and is the norm for the area. But a grand affair for up to 400 people (one venue can host 800!) is just as much of an option. The sky's the limit when it comes to including all of the people you love on your special day.
Your Wedding Location
Once you have an idea of who will be attending your wedding and how much of a budget you have to spend, then you can begin taking a look at the stellar venues.
Vineyard & Winery Venues
Because wedding permits in Napa are only available to five wineries, you won't be overwhelmed by the number of options in this category. But this does mean that you may need to book early! Take a look at these exquisite vineyard and winery wedding venues in Napa Valley:
Napa's oldest historic winery was named by Food & Wine magazine as one of the "Best wedding venues in Napa Valley". Three different breathtaking settings are available for your wedding celebrations:
Host a grand affair on The Great Lawn for up to 800 guests between April and October. Surrounded by vineyards and filled with heritage oak trees, the outdoor venue can be as traditional or creative as you desire. Enjoy an afternoon wedding in the perfect Napa weather, share a catered meal with your guests, and then dance under the stars.
For a celebration for up to 250 people, The Carriage House dating back to 1881 offers elegant ambience with a renovated ballroom and dining room. Period chandeliers, arched doorways and a cathedral ceiling provide a myriad of photography backgrounds.
Featured in Architectural Digest, the historic Redwood Cellar channels a rustic feel with open-beam ceilings, giant windows, a unique sense of history. Perfect for a pre-wedding party or rehearsal dinner, the cellar accommodates from 100 to 300 guests.
Providing the perfect backdrop for your wedding, the Beringer estate offers verdant gardens and stately 19th century architecture at California's oldest continually working winery. With space for up to 120 people outdoors and up to 90 indoors, Beringer provides benefits such as:
Options for inner courtyard and patio setting or spacious grand lawn
Wedding couple ready rooms prior to ceremony
Exclusive use of the Hudson House main floor and grounds
Valet service (Friday, Saturday, Sunday)
Outdoor amplified music until 10pm
Preferred list of caterers
Lush landscapes and rustic charm bring V. Sattui to the forefront of hosting a grand affair for a gorgeous wedding including up to 250 people. Wedding venue access at this distinct winery property includes:
Exclusive portrait sessions at the iconic winery tower, world-famous vineyard, idyllic fountain terrace, aging cellars and more
Choose to set your outdoor ceremony on the majestic tower lawn or in the more intimate courtyard of the winery
Host a wine reception following the ceremony on the Vittorio terrace, in the courtyard or on the fountain patio
Candlelit dinner receptions take place in the Barrel Room
Dancing (with room for a DJ, band, or solo musician) can last until 11 pm
Access to catering by a Michelin starred chef hailing from Lake Como, Italy
60 varietals of wine to choose from at significant discounts
A hidden gem located in Calistoga, in the heart of the Mayacama Mountains, Hans Fahden Vineyard makes its stunning wedding venue available seven days a week. Share your vows surrounded by sprawling lush gardens in which you and your guests will feel you've been transported into a Monet painting—complete with a romantic bridge and ponds brimming with lily pads!
Hans Fahden Vineyard weddings include:
A boutique outdoor setting for up to 110 guests
Secluded bridal dressing room
Grand room with a baby grand piano and panoramic views for guests to enjoy pre-wedding wines
Candlelit dining reception in the unique volcanic ash wine cave
On site wedding coordinator service
Staff assisted parking and guest arrival
Located in St. Helena, Merryvale Vineyards offers a stunning cask room which works perfectly for your reception, where guests can dine between century-old 2,000-gallon wine barrels.
Groups of up to 112 people have easy access to the winery because of its convenient location in the center of town
Once inside, you and your wedding guests will be transported back in time to an Old-World-style ambience with plenty of unique, elegant photo opportunities
Receptions take place in the spectacular cask dining room
Cuisine prepared by an inspired local chef
Resort-Style Venues
If you're looking for a resort-style destination wedding, Napa Valley has plenty to choose from. Vineyard backdrops combine with the convenience of in-house catering and accommodations to make your guests comfortable and your nuptials dreamy.
Tucked into Napa Valley with a bit of everything you could want for a picturesque wedding setting including expansive mountain views, palm trees and charming buildings. Solage Calistoga wedding planning means you can have your day the way that you want with a distinctive, creative flair. Perfect for all of your wedding events, whether an intimate proposal, bachelorette spa weekend, elopement, intimate wedding ceremony and/or honeymoon. Solage Calistoga fits for any and all of your wedding needs.
Solage's indoor "modern farmhouse" event space accommodates up to 250 guests with a rustic feel that can also meet your every need
Venue options include the larger Solstice Room & Lawn, Solstice South Terrace and Courtyard, or, for a smaller group, the Spectera room or Poolside Patio
Michelin-starred culinary team for the best in catering with custom themes
On-site wedding specialist to assist with all of the details
Everything in music and entertainment, from a grand entrance on horseback to romantic couple's experiences—programs can be designed to fit your guest list
Wedding day spa services are available
Starting costs for 50 guests is $8000
Channel your inner country vibes by taking your wedding out to Triple S Ranch in Calistoga. Located on a serene ridge with unobstructed vista views, the property is surrounded by vineyards and grand trees. The entire property is available for a large ceremony, and the buildings will accommodate up to 45 people for overnight stays. Although it has a rustic charm and casual feel, Triple S provides all of the elegance and amenities you could want!
This private estate includes Vintners Barn (circa 1860s), Grand Victorian, 14 cottages, infinity hot tub, pool, stone patios and redwood decks
Views and photography settings include a garden, hills, meadow/fields, creek, canyon, wooded area, mountains, vineyards and more
Rehearsal dinner, ceremony, reception and morning after brunches can all be held in the same place over the weekend
Quintessential outdoor wedding ceremony site under a giant walnut tree
Decks, patios and wine cellar can seat up to 200 wedding guests
Preferred list for caterers
Bring your own alcohol policy gives you more options (unique in the Napa Valley area)
Available year round
Entire property rents for $35,000 for 2 nights (with no hidden services fees or taxes)
Other Non-Vineyard Location Options
A Napa Valley wedding doesn't have to be limited to the use of a vineyard or a resort. Other site locations for weddings can be just as lovely, including clubs, farms, and even a wine train!
The Chardonnay Golf Club offers all of the benefits of a vineyard wedding, with delicious vistas and amazing sunsets, without some of the restrictions places on wineries. This unique setting nestled into Jameson Canyon in Napa, the landscapes provide picturesque photo opportunities of oak-tufted hills, distant peaks and 150 acres of seemingly endless rows of grapevines.
Perfect for a low-key event in the country, here's what you can expect from a Chardonnay Golf Club wedding:
Custom packages that fit your budget
Flexibility and easy-going staff to make your wedding what you've always wanted
Choice of two outdoor sites including The Big Oak Tree or the rose-decked Moonlight Grove
Tent receptions held outside make guests feel they are dining on a cloud
An intimate site removed from the golf club's main building and activities
Smaller receptions can make use of the Clubhouse with an enormous sandstone fireplace and large picture windows to take in the views
Accommodates up to 400 guests
Access to catering team led by an executive chef
This ideally-located wedding venue features a new garden ceremony site with reception pavilion with a wall of windows that overlooks the lush green of the golf course. Although it does not provide overnight accommodation options, Fairview Napa functions on an all-inclusive wedding resort system in all other ways.
Host between 40 and 280 guests
Abundant opportunities for picturesque photo shoots in natural surroundings
3000 square foot pavilion makes an ideal setting for an outdoor dinner reception
Four different all-inclusive wedding packages to meet each couple's budget, beginning as low as $50 per person (plus service charges and site fees)
All packages include invitations, DJ & MC, dinner and a toast
Other amenity options: centerpieces, wine with dinner, cocktail hour, wedding cake, golf, champagne, hosted bar and more
This venue does not offer overnight accommodations
For a completely unique wedding venue, consider a Napa Valley Wine Train wedding. Whether you're planning a ceremony on-the-go for just the two of you, or you'd like a reception with a small group, the Napa Valley Wine Train offers a distinctive, memorable experience.
The linear layout of a train is a perfect way to enjoy intimate interactions with your wedding guests on elegant 100-year old railcars. The 30-mile round trip train to and from St. Helena guarantees unprecedented views and, of course, access to some of the best wines in the world.
In addition to the train journey, wedding parties can make use of the Culinary Arts Center Dining Room and patio, as well as the McKinstry Street Station. Before or after the journey, the happy couple (and guests!) can participate in the traditional practice of placing a lock on the Love Lock Bridge at the Napa Valley Wine Train station.
Wine Train packages include wedding coordination, meal, photography, officiant and more. Elopement costs begin at around $2600 while group prices depend on number of guests.
Church Wedding
For those who prefer a more traditional approach, there is no shortage of options for church weddings in Napa Valley. You can make your ceremony a formal occasion in the church and then move to a more relaxed reception venue for dinner and dancing. Many of these buildings maintain a quintessential church-wedding experience, complete with historical architecture and stained-glass windows. Contact the individual church to find out about their wedding policies.
Here are some of the denominational options for church weddings in Napa Valley:
Choosing a Wedding Date
Afavorite location for tourists, you'll want to do your Napa Valley wedding planning far in advance, and possibly outside of tourist season. This will not only mean there are fewer tourists around, but you'll also likely save on the costs of venue, guest accommodations and much more.
Weather Considerations
As the climate in Napa Valley varies depending on your exact locations, as well as the time of day, you'll want to talk weather with your venue owner and/or coordinator about the weather on your wedding day. This is especially true if you are planning an outside wedding. And with balmy temperature highs averaging in the 70s to 80s in the spring, summer and fall, why wouldn't you want your wedding to be outdoors?!
Temperatures do tend to drop once the sun goes down, even in the summer, so be sure your guests are prepared to dress appropriately. But even in the winter the temperatures in Napa Valley are fairly mild, with highs in the 60s and lows in the 50s.
Flowers and Decorations
Check with your wedding planner to get the best deals on a provider for flowers and decorations. California has exceptional weather for flowers, which means you'll have access to plenty of floral options no matter the season. For an outdoor wedding, make sure you're working with a florist that has experience and understands what winds and weather might mean for your flower arrangements.
Photographer and/or Videographer
You'll want to have a good relationship with your photographer so that they can capture your day in a way that fits you. Recommendations from your wedding planner may help, but a simple online search can also be a great tool since you can get a good idea of a photographer's capabilities by looking at their gallery. An in-person meeting before booking will help you know if a particular photographer has a personality that clicks with yours. After all, they are going to be included in your big day so you want to know that they'll be a good fit!
Ceremony Details
Some of the details you'll need to consider for your wedding ceremony include:
Wedding Officiant
Obviously, you'll need an officiant for your wedding but this probably won't be too difficult to arrange. California is fairly loose with its laws about wedding officiants and does not maintain a central clergy registry, but unofficial lists can be found online.
If you prefer a religious ceremony then you may be able to find a minister through a local church. You can even choose a friend or family member to perform your ceremony if they are willing to be ordained online!
Many wedding venues will provide you with a list of ministers with whom they cooperate. Your wedding planner may also be able to help you find an officiant who would fit the style of ceremony you are interested in having. If you get married in a church, the pastor or priest of that church or parish will likely perform the ceremony.
For more information about Marriage Officiants, contact the California Department of Public Health.
Marriage Ceremony
Your ceremony options will probably depend on the officiant you choose so be sure to discuss what you want before booking one. Some couples desire a ceremony that is short and sweet, while others choose to write their own vows and include poems, scripture verses, music, family traditions and more. Unity candles, unity sand, love letters, hand fasting, mothers' candles, and communion are just some of the symbols couples can choose to show their commitment to one another.
Legalities
Marriage licenses in California are fairly straight forward with just a few simple requirements:
Both parties must be 18 years or older (or have parental consent)
Couple must appear in person at the county clerk's office with completed application (no appointment needed)
At least one witness must be present and sign
It is not necessary to be a resident of the state to get married in California
Valid identification must be presented by both parties
Marriage license expires after 90 days
License fee is approximately $85 and certified copy is $15
Napa County California Website
Travel to Napa Valley

If you and/or your guests are coming in from out of town, airport options for getting to Napa Valley include:
Oakland International Airport (OAK) 70 miles away
San Francisco International Airport (SFO) 70 miles away
Sacramento International Airport (SAC) 75 miles away
San Jose International Airport (SJC) 85 miles away
Guest Lodging
If you're going for an all-inclusive resort, then you don't have to worry about lodging. But in a place like Napa Valley, it's no problem finding a plethora of comfortable and elegant housing options for your out of town guests. If your wedding is during tourist season, however, be sure to book your block of rooms ahead so that your guests are sure to have an ideal place to stay.
Check out this list of Napa Valley accommodations see what fits with your needs:
Honeymoon
When you're in Napa Valley for your wedding, you may not even want to leave to go on your honeymoon. Skip the jet lag and stay where you are!
Plenty of hotels offer spa resort and tourism packages that would be perfect for your first week or two of marriage. With options for breakfast in bed, walks in the country, wine tastings, hot air balloon rides and romantic dinners, you'll never be short of things to do on your honeymoon in Wine Country.
Here are a couple of our favorites:
For unmatched luxury, check out this elegant three-story resort that channels its inner Tuscan Villa. Enjoy nature surrounded by vineyards and countryside, and participate in activities such as spa treatments, wine tastings, swimming, bicycle riding, golf, and even bowling!
Romantic beyond compare, Meadowood gifts guests and natural, timeless beauty that is ever-changing. The sophisticated estate makes available all of the experience a honeymooning couple could want: wine tasting, cooking classes, pool lounging, couple's massages, picnicking and much more.
Cost Estimates
As in any location, the cost of Napa Valley wedding planning can range from a couple thousand dollars (for an elopement) to over a hundred thousand for the grandest of affairs. The amount you spend depends on your budget and the choices you make!
In 2018, The Knot estimated that couples in the United States spend an average of almost $34,000 for a wedding. Of course, this includes a range of couples so that doesn't mean everyone spends that much! Much of these statistics depend on where the wedding takes place and how many people the couple chooses to include in their big day.
Couples in California usually tend to spend slightly more than the average. One estimate for Napa Valley weddings comes in at around $37,000.
Here's a general idea of the breakdown of what you can expect to pay for a Napa Valley Wedding:
Venue: $8000-$25000+. This is where a large chunk of your budget will go. Before booking, ask questions about what is included with your venue, i.e. tables, chairs, restrooms, power generators, required caterers, etc. This cost can also change depending on whether you use the same venue for your ceremony as you do the reception.
Catering: $75-$150+ per person. Another huge portion of your wedding budget, this includes not only the cost of food, but also the labor such as servers and bartenders.
Wedding Planner: Around $3,000. In the long run, a wedding planner can save you a ton of hassle. They may also be able to save you money as they have an inside track on local venues, suppliers, etc.
Musicians, Band and/or DJ: Factor in between $1500 for a DJ or $4000+ for a live band at the reception. Wedding musicians (strings, organist, pianist, etc.) may come in at just under $1000.
Flowers and Decorations: $2500-$3000.
Photographer/Videographer: Photographers alone usually run between $2500-$3000. Add in a videographer for another $2000 or so.
Dress: $1500 average. Of course, this cost depends on the style the bride chooses.
Groom Suit: $200-$300.
Officiant: Around $300
Marriage License: $100
Cake: $500+
Transportation: $1000
Favors: $250
Rehearsal Dinner: $1250. This was traditionally supplied by the groom's parents but many couples no longer hold to that standard.
Invitations: $350
Hair and Makeup: $250
All of this put together means that you have whole lot of wiggle room for setting your budget on either the low end or high end of the scale. Thinking of an all-inclusive wedding for 400 guests? Great! You're probably looking at over $100,000. But if you've been dreaming of a simple, intimate gathering in a romantic Napa Valley setting for just a few of your closest friends and family, you can probably get away with $10,000 or less.
When it's all said and done, a wedding in Napa Valley can be exactly what you want to make of it. Romantic and rustic. An elegant gala affair. Whatever you are looking for your wedding to be, you can find it in Napa Valley!
Related Questions
What is the Average Size Wedding in Napa Valley?
Weddings in California's Wine Country typically average out at around 125 guests. Some wedding planners recommend that 80-100 is the perfect number of guests for striking a balance between celebration, intimacy, and budget allowances.
How Much Does a Napa Valley Wedding Planner Cost?
Most couples can expect to pay their wedding planner about 10% of the cost of the wedding. That means you can probably estimate $2000-4000 for the cost of a wedding planner. Some wedding planners work with package deals but will also customize a package for you upon request.
With years of experience and a team of dedicated wedding planners, Vacation-Napa is a trusted name in Napa Valley wedding planning, ensuring a seamless and unforgettable experience for couples.